admin
Setting the Pace: Jets OLB Succeeds in First Campaign in New York
Archive · September 22, 2014
Being part of a complete overhaul has its advantages. First of all, basically any success will be viewed as an improvement. Secondly, all of the expectations and responsibility will not be placed squarely on one person's shoulders, so the accolades – and blame – will be divided evenly.
When New York Jets general manager Mike Tannenbaum looked at his defense following a 4-12 campaign in 2007, he knew that he had to upgrade a pass rush that ineffectiveness was effecting the entire 3-4 scheme. Only 29 sacks was a statistic that jumped off the page and was addressed aggressively.
Kris Jenkins was acquired to replace the undersized Dewayne Robertson at nose tackle, Vernon Gholston was drafted sixth overall (and converted from a defensive end to a rushing outside linebacker), and Calvin Pace was signed as a free agent from the Arizona Cardinals, where he enjoyed success playing OLB in the same defensive alignment.
"The guys have embraced me since the day I stepped in," Pace said. And he has embraced the role, as well. Through 14 games, he had 68 tackles, four forced fumbles and seven sacks, already besting his career high of six and a half sacks during his last season in the desert.
"It's a different environment from top to bottom," said Pace comparing Arizona to New York. "The first time I heard the J-E-T-S chant with Fireman Ed…I've never been a part of something like that."
Standing by his teammates is another positive factor that has made Pace's arrival special. Whether it be keeping a rookie's chin up or being understanding of a bad off-the-field decision by a veteran leader, Pace had no problem handing both. When Gholston was bumped from the active roster for the December 14 home win versus Buffalo, Pace sat down with the struggling rookie out of Ohio State and shared an experience with him when he himself was deactivated for two games earlier in his career.
Sean Ellis was having his best season and the Jets were flying high at 8-3 and on a five-game winning streak when on the eve of their November 30 game versus Denver, the defensive end was arrested for possession of marijuana following a car stop by police in New Jersey. He did play the following day and since then, the team has gone 1-3, with what was once a certain playoff spot very much in doubt at press time. Pace did not seem to think that the incident effected the team in any way.
"Denver just best us," he said, disagreeing with the possibility that the 34-17 loss had a 'hangover' effect from Ellis' arrest. "We all make mistakes. Some of them are going to be in the public eye. We got past it right after it happened. Everyone is still behind Sean."
As far as Pace is concerned, the 2008 club has nothing to do with the past, and even went as far as saying that he was unfamiliar with the term 'Same old Jets.' As hard as that may be to believe, even if the team misses out on the playoffs, Pace will not view the season as a failure.
"I don't know if you can say that," he said. "I haven't thought about the 'what-ifs," Admitting to a little scoreboard watching this late in the season, the sixth year Wake Forest product has shown he is just like fans such as Fireman Ed. "I wouldn't mind a little help."
Probably what Tannebaum said to himself when he signed Pace, who has made good on the investment.
Originally published in the January 2009 issue of New York Sportscene magazine. 
Casting His Own Shadow: Out of Peyton's, Eli Looms Large in Gotham City
Archive · September 22, 2014
When does one know that he has finally 'arrived?'
In the case of Eli Manning, the obvious moment would appear to be winning Super Bowl XLII and being named MVP. Stepping up in the biggest game of one's career to the level that Manning did last February is definitely an accomplishment to last a lifetime.
Only if you're content resting on your laurels.
Following up a performance for the ages is not something that is easy to do. In fact, it may be harder to stay at the top of the hill than it was getting there in the first place. By the time Manning was selected to this season's Pro Bowl, he had already led the Giants to 12 wins against only two losses en route to another playoff appearance.
"It's definitely an honor to be selected by the fans and the players and the coaches around the league," he said. "I am excited about that, but that is something that will look forward to after the season."
A season that Manning hopes does not end until February 1 in Tampa under a red, white and blue confetti shower. By throwing for over 3,000 yards and better than 20 touchdowns, he has proven that he is far from a one-hit wonder. Through Week 15, he has had three games with a quarterback rating over 100, in which he threw eight touchdown passes against zero picks in wins at St. Louis and Arizona and at home versus Seattle.
What has made Manning's season even more impressive has been him being able to put up these type of numbers amongst distractions such as the Placixo Burress fiascos. His top wide receiver has been a problem all season long, going back to training camp. It all came to a head with the shooting incident that, for all intents and purposes, ended Buress's Giant career.
"We have had our share of them (distractions) and I think myself, the players, the coaches have learned how to cope with them and how to deal with them and how to make a distraction bigger by what you say and do," said Manning. "You have to concentrate on your job and football and the less you say the better you are."
Putting aside the nonsense purported by Burress has been another proving point in his maturation process. For a player who has had his leadership qualities publicly questioned in the past within his own locker room, Manning has come a long way. Forever compared to his older brother Peyton, Eli's personality differs from the Indianapolis Colts' gunslinger. One of the problems that he faced early on was the expectations that come from being a Manning.
By following up Peyton's MVP in Super Bowl XLI, they may be on an even slate. Both will be battling it out in the postseason and again in Honolulu. They have become the first set of brothers to play quarterback in the Pro Bowl and if things break right for their respective teams, can become the same in a game with much bigger implications.
"If we have the opportunity to get back to the Super Bowl, I will take that," Eli Manning said. "Our concern is this season and finishing on a good note."
Yes, Eli Manning has arrived. But apparently not in his eyes – another trait of greatness.
Originally published in the January 2009 issue of New York Sportscene magazine. 
Armed and Dangerous: Strength and Conditioning Workout With 49ers Quarterback Colin Kaepernick
Archive · September 3, 2014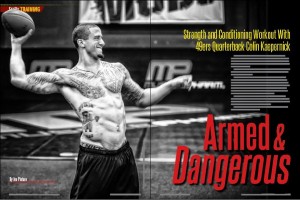 It was the moment that all professional athletes cannot wait for. To get the word that they are now in the starting line-up, finally receiving that golden opportunity to show everyone else what they already knew themselves – that they belong there.
But Colin Kaepernick may have been the last person to find out when he got the nod as the San Francisco 49ers starting quarterback.
"I remember my roommate (Ricardo Lockette) saying to me, 'Hey, have you seen SportsCenter? They just announced that you're starting this week,'" says Kaepernick, 25. "It hadn't been officially released by Coach (Jim Harbaugh), but someone leaked it out. I stood there in front of the television and thought to myself, 'this is my chance; this is what I've been waiting for.'"
With that Week 11 win over the Chicago Bears, the second-year Nevada product solidified his role and kept Alex Smith on the bench for the rest of the season, which, by the way, included a Super Bowl run.
The Niners were now Kaepernick's team, and he was more than ready for the job.
HITTIN' IT HARD
In today's NFL, quarterbacks need to be big and strong, as well as fast to be as effective as possible. Kaepernick fits into all three categories and does so by taking his gym time seriously. Whether it is during the offseason or in between football Sundays, he can be found in the gym five days every week, up to four hours a session between running and weight lifting.
MONDAY – lower body
TUESDAY – upper body
WEDNESDAY – triceps, biceps, core
THURSDAY – lower body
FRIDAY – upper body
"I hit everything twice a week," the MuslePharm sponsored athlete says, adding that he will perform some of the movements from Wednesday's workout (which he calls "gun-showing core") on upper body days.
"I don't do a lot of (traditional) cardio, but more sport-specific things," he added. "A lot of training with bungees, chains, ladders…and a lot of resistance and drops.
"I was actually doing some track workouts for a while, too."
When he is not training with the 49ers strength and conditioning staff at their team facility, Kaepernick is working with Chip Smith in Atlanta. "He did all of my pre-combine, pre-draft workouts with me," he says. "I did everything with him and had good results."
During the season, Kaepernick keeps the same weekly schedule for workouts. "I still train Monday through Friday," he describes. "Saturday is our day off and we play on Sunday."
As a team, the coaches expect every member of the 49ers to hit the weight room at least three days a week, but, as Kaepernick tells it, "most guys do more than that."
As far as training partners go, the players do not break off into position-specific groups to lift. "It all depends on who is coming and going, out watching film or whatever," explains Kaepernick.
Never one to get stale, Kaepernick went right back to getting himself ready for the upcoming season with the last one barely in the books.
"I took just one week off after the Super Bowl and went back to work with Chip," he told us during a break at the MusclePharm training facility in Denver, Colorado.
THE LEARNING CURVE
Although he is still young and has a fast metabolism, Kaepernick knows that eating right goes a log way in making all of that training more effective.
"I used to be a big candy and fast food fanatic all through college and even a little bit during my first year (in the NFL)," he says with a sheepish smile and a hint of a laugh. "But now I've been trying to cut down and eat a little bit cleaner."
By removing the sugary and fattening items from his diet, Kaepernick is in the best shape of his life and looks shredded from head to toe.
Standing at an impressive 6'4", he carries around 220 pounds during the bulk of the offseason and will up his caloric intake as the summer approaches. "I'm a little bit heavier going into training camp – around 225 or 230 pounds," he says. "Normally, my playing weight is between 220 and 225 pounds."
To maintain and improve everything, Kaepernick uses MusclePharm Assault Pre-workout, Amino 1 Recovery/Hydration and Combat Whey Protein.
CARRYING ON THE TRADITION
By coming basically out of nowhere last November, Kaepernick took the league by storm and became a household name, albeit one that was originally difficult to pronounce and spell. Playing at a high level for a high profile team gave him a big stage to perform on and he did not disappoint.
Even when he was used as a role player, lining up as a Wildcat quarterback in the zone-read option, Kaepernick was an obvious weapon and a great change of pace from the drop back passing Smith.
He was always a threat running out of the pocket, but Kaepernick's arm strength and accuracy became even greater parts of his repertoire once he had the chance to showcase them. By having the opportunity to become another all-time great quarterback for a franchise rich in them with predecessors Joe Montana and Steve Young, Kaepernick realizes how vital his growth is.
"It's something where I hope to improve every year," he said humbly. "I'm going to do everything I can to go out and make sure that I win games; perform well for my teammates. If I can get mentioned in the same breath as those other two guys, then I must be doing well."
Flashing back to February, Kaepernick recalls how close he and his teammates came to beating the Baltimore Ravens and pulling out Super Bowl XLVII, what would have been perhaps the greatest comeback in history after facing a 22-point third quarter disadvantage.
"I don't think that there's anything that can make you more hungry than being (seven) yards away," Kaepernick says with a total straight face and piercing stare, describing the 49ers' two-minute drive near the end of the game that stalled with them trailing by five points. "But I hope to play in many more Super Bowls – and win many. The ultimate goal is to get to as many Super Bowls as you can and win as many as you can."
Sounds simple enough, and very well may be – if you just happen to be Colin Kaepernick, that is.
Inked With a Kiss
As the season came to a close and the playoffs began, a new sensation began to take over the country known as 'Kaepernicking,' which was the 2012 version of 'Tebowing,' if you will.
Kids all over were mimicking the bicep kiss touchdown celebration by Colin Kaepernick, but not many knew why the 49ers quarterback was performing the act.
"I read an article that was basically degrading tattoos," the heavily inked one says. "So that was just my way of letting everybody know that I love my tattoos and – like it or not – they're going to be there."
The pieces that grace basically Kaepernick's entire body are works of art (and many contain Biblical verses) and he is rightfully proud of them. So the next time you see him do this (which will be plenty and often), you'll know exactly what the message is that he's giving.
COLIN KAEPERNICK – QB, San Francisco 49ers
AGE- 25
HEIGHT – 6'4"
WEIGHT – 225
COLLEGE – Nevada
DRAFT – Round 2, 36th overall
2011
PASSING
G     ATT   COMP   PCT     YDS   AVG   YDS/G   TD   INT   RATE
3      5        3            60.0     35     7.0      11.7       0      0        81.2
RUSHING
ATT   YDS   AVG   TD
2         -2       -1.0    0
2012
PASSING
G    ATT   COMP   PCT    YDS       AVG   YDS/G   TD   INT   RATE
13  218   136        62.4    1,814  8.3       139.5     10    3       98.3
RUSHING
ATT   YDS   AVG   TD
63      415    6.6     5
Brady's Winning Ways
Another elite quarterback that Colin Kaepernick would benefit from emulating is Tom Brady of the New England Patriots. Super Bowl appearances (and wins) have become old hat with him and Brady stays in top shape with this four-day routine:
MONDAY – Chest, Triceps, Abs (bench press, close-grip bench press, skull crushers, triceps pushdowns, dumbbell kickbacks, crunches)
TUESDAY – Back, Biceps, Abs (power cleans, pull-ups, T-bar rows, dumbbell rows, straight bar curls, seated curls, crunches)
THURSDAY – Shoulders, Chest, Triceps, Abs (military press, dumbbell shrugs, incline bench press, frontal raise, one-arm dumbbell skull crushers, skull crushers, crunches)
FRIDAY – Legs, Abs (squats, deadlifts, leg extensions, leg curls, leg press, calf raises, crunches)
*Cardio performed 40 to 60 minutes, six times per week. 
Manning Up
No great quarterback conversation would be complete without including Peyton Manning, and the veteran signal-caller of the Denver Broncos maintains good form on the field with a similar attitude off it – especially in the gym.
Manning emphasizes on three important areas and splits them up as follows:
ABDOMINAL ROUTINE
*Seated Medicine Ball Throws – 1 set/15 reps
*Partner Med Ball Rotation Throws – 1 set/8 reps per side
*Lateral Partner Med Ball Rotation Throws – 1 set/8 reps per side
*Med Ball Toe Touches – 1 set/15 reps
*Various flexibility and stretching movements
AGILITY TRAINING
*Reactive Tennis Ball Shuffle – 3 sets/15 seconds each
*Pass Drop with Overspeed – 1 set/4 reps
*Pass Drop with Bungee Resistance – 1 set/4 reps
*Mini Hurdle Shuffle – 4 sets/5 reps, changes of direction
*Speed Ladder Straight Run – 6 sets/performed 2X: one foot in each box, two feet in each box, hop scotch landing with one foot in each box, hop scotch landing with two feet outside of each box, 'Ickey Shuffle' with two feet in each box, 'Ickey Shuffle' with one foot out in diagonal shuffle
STRENGTH TRAINING
*Dumbbell Flat Bench Press – 4sets/6 reps each
*Back Hyperextensions – 3 sets/8-to-10 reps each
*Triceps Pushdowns Dropset – 2 sets of 10 reps/decrease 10-to-15 pounds, 10 reps/decrease 10-to-15 pounds, 10 reps
*Hamstring Curls with Single-Leg Negatives – 2 sets/5 reps each leg
 FitnessRX For Men magazine (September 2013 issue)
Get Shredded With the UFC's Georges "Rush" St-Pierre
Archive · September 3, 2014
There is a telling scene in the 1977 documentary "Pumping Iron" where Arnold Schwarzenegger is being asked about maintaining his status as the champion while fending off a potential trying challenge from one Lou Ferrigno.
Schwarzenegger is given a scenario in which "the wolf on the hill is not as hungry as the wolf climbing the hill," and the wily Austrian replies with, "That's true, he's not as hungry. But when he wants the food, it's there."
It appeared that the latter was correct as the Mr. Olympia title stayed in Schwarzenegger's corner, but the same can be said when it comes to Georges St-Pierre. As of press time, the reigning Ultimate Fighting Championship welterweight champion has not lost a match since April of 2007 and has successfully defended the title on six occasions, thus proving that the crest of the proverbial hill is quite a comfortable habitat, indeed.
Bouncing Back
The man known by all mixed martial arts fans by his initials has honed his skills in the Octagon with many years of training and mastering different disciplines. GSP is coming off an ACL injury to his right knee and was sidelined for 10 months, making his stamina a possible issue the first time back in the cage. But St-Pierre, 31, doesn't feel that will be an issue at all.
"It's as if it never happened," he said. "I started physical therapy about a week after the surgery and returned to my regular routine six months later. I am fully healed and have been training the same as I did before the injury."
This issue went to press before November 17, when St-Pierre faced Carlos Condit to unify the interim title at UFC 154. "I want to get back to where I was," the Montreal, Canada native said with full confidence in October, prior to the match.
The Shape of Things to Come
Conditioning was never an issue for St-Pierre in the past, and his training regimen is geared around imitating the same time frames that he will have to endure in a championship fight. In the UFC, that means up to a full 25 minutes in the form of five, five-minute rounds. When you are talking about an MMA fight that may as well be a lifetime.
So it goes without saying that a lot of preparation goes into a fight of this magnitude and St-Pierre trains year-round, six days a week, to stay in shape. He uses an eight-week program before each fight that he describes as a "funnel."
"When I'm far away from a fight, I'll do a lot of different disciplines," the 5 foot 11, 170-pounder said. "It keeps changing, but the closer that I get to the date, I concentrate on mixed martial arts training."
When he arrives at the gym, St-Pierre will do a good warm-up before getting into the meat and potatoes of his workout. And of course what is done— and how it's done— depends on his fight schedule. "I'll train with more volume and less intensity until it gets closer to my next match," said St-Pierre, who was first introduced to karate at the young age of 9 and MMA at 17. "Then I'll train with less volume but make it a lot more intense."
Getting yourself ready for an MMA fight is unlike any other athletic competition in the world. Because there are so many different disciplines used in the cage, one has to be well schooled in all of them equally. So that means being astute in boxing, wrestling, Muay Thai and Brazilian Jiu-Jitsu, to name a few.
Mastering even one of those styles can be a huge task, so taking on multiple disciplines will result in a very diverse training regimen. St-Pierre is considered extremely strong in both wrestling and BJJ, so he is lethal when the action is on the ground.
Spending no more than one hour in the gym per day, St-Pierre will touch on many different areas to make the most of his time. He will do each of the following three times a week: boxing (for hand and foot work), wrestling (for takedowns and legs), BJJ (for submissions, positions, ground work and flexibility) and Muay Thai (for kicks, knees and elbows).
But sparring is merely one part of the program for him, and he makes sure to keep improving his strength. "I do some light Olympic-style weightlifting," said St-Pierre, "such as the snatch."
To keep himself in top shape, St-Pierre will again utilize the five-minute strategy in a series of circuits, such as working with the medicine ball, stretching, plyometrics and calisthenics. And to keep himself honest, the man nicknamed "Rush" (for his early career quick knockouts) will take a short one-minute rest in between each circuit.
To get his endurance and flexibility improved, St-Pierre has implemented some unique aspects into his training that can be considered thinking out of the box. "I do gymnastics and track and field," he said while hiding a slight laugh. "I don't believe that there are any other fighters out there doing either of them, let alone both."
One day a week, St-Pierre meets with an Olympic track and field coach in Montreal. And another day, he will work with his gymnastics coach. "Doing all of these things definitely helps my reaction time, plus it allows me to break the routine and make it more fun," St-Pierre quipped.
Perhaps a question that may have come up after ingesting what St-Pierre does in the gym is the lack of cardio, which is usually a given. But not to him. "I don't do any cardio," he surprisingly said. "My sparring is my cardio."
Up and Down
Many MMA fighters are known for a certain style and have an advantage in either a stand up fight or one that is taken to the floor. St-Pierre can handle himself quite well on the mat, but also on his feet striking. He implements a version of full-contact karate called kyokushin into his repertoire and has been able to utilize it successfully. "It is the toughest karate style and involves a lot of kicks to the legs," he said.
By weakening his opponent's legs, St-Pierre is setting them up for a takedown and then he can work his BJJ magic. But according to him, his main strength is not striking or grappling, but rather a combination of the two.
"My fighting strength is that although I may not be the very best at any one thing, I am very, very good at almost all aspects of fighting," St-Pierre pointed out. "That's my strength."
Five of his last six fights have went the full distance, so St-Pierre is definitely a patient fighter who will wait out his opportunity, but confident enough in his point-gathering prowess to take the decision. There has been some past criticism of St-Pierre's style, which has been called non-aggressive, as one that is vulnerable. But that remains to be seen.
A more aggressive fighter may be playing right into St-Pierre's hands, and one that tries to match his pace needs to be equal to or better than him on the ground. Perhaps the best-case scenario for an opponent would be to wait for a submission hold opportunity while on his back. Not exactly the best pre-fight plan, but one that can be pulled off in certain situations.
Because most UFC fans love the highlight reel knockout, St-Pierre's methods have not caught on with most, other than the hardcore ones. Yes, he is a big fan favorite (especially in his native Canada) and one of the "faces of the franchise," but in a different way than Anderson Silva or Chuck Liddell.
Get with the Program
You know that you are doing something right when an entire DVD series is created based on your workout. "RushFit" has been flying off the shelves (or, in this modern age of online shopping, computer screens) and is a complete "How To" for everyone from beginners to pro fighters, with separate breakdowns for three levels.
"RushFit is a high-intensity fitness program that anyone can use," writes St-Pierre in the manual included with the set. "It will test physical strength, transform your body and give you the mental edge you need to be the best. If you want to have the confidence of a champion, you have to train like one."
His trainer Erik Owings joins St-Pierre and they put forth a schedule that is reminiscent of what the former does to get ready for a fight. It is an eight-week program that is broken down in a pyramid: conditioning, technical then tactical.
The six discs are what makes this exceptional instructional material, and includes:
FULL BODY STRENGTH WORKOUT
1. Strength and Endurance Workout
Full Body Strength and Conditioning
FULL BODY CONDITIONING WORKOUT
The Fight Conditioning Workout
CORE STRENGTH TRAINING
Abdominal Strength and Core Conditioning
PLYOMETRICS FOR MAXIMUM PERFORMANCE
Explosive Power Training
COMPLETE CONTROL
Bonus Workouts – Balance and Agility, Stretching For Flexibility
Nutritional Green Light
When you see St-Pierre and the fact that he has nearly zero visible body fat, one would think that he follows a diet akin to one of a bodybuilder. But just like his "no cardio" stance, he also does not have a strict nutritional plan.
"I don't follow any specific diet," he admits. "I try to eat healthy and have no junk food once I'm eight weeks out from a fight. But if I want dessert, I'll have it."
St-Pierre will eat a meal heavy with carbohydrates before his workout and one with more protein after. Throughout the day, he eats approximately the same amount at each sit down and they include moderate carbs and high protein, which assists in his recovery.
Likely blessed with a fast metabolism and working so hard to burn the calories consumed allows St-Pierre the luxury of eating more liberally. He has been able to maintain his great conditioning by way of being loyal to his training and can enjoy the little things in life at the dinner table.
No Rush to Retire
Although relatively young for an athlete, St-Pierre has undergone a number of fights that went the distance and that can take its toll in the long run. Plus, MMA is different from baseball or basketball in that its participants take a pounding. So how many more years can one keep up the same pace?
"I love what I do; I'm not even thinking about it," St-Pierre said when posed the question of when he sees himself hanging it up. "I don't want to retire."
At the rate he is going, it appears that he can call his own shots and walk away when the time is right— similar to Arnold, once again.
References:
Colker, CM, Get Ripped With the UFC's Georges "Rush" St-Pierre, FitnessRx for Men, 64-73, May 2008
RushFit 6 DVD Set
GSP's FIGHT HISTORY (22-2-0)
1/25/02       UCC 7     Round 1   KO/TKO                                               Ivan Menjivar                                               WIN
6/15/02       UCC 10   Round 1   Submission                  Justin Bruckmann                   WIN
10/11/02     UCC 11   Round 1   KO/TKO                   Travis Galbraith                                  WIN
1/25/03       UCC 12   Round 2   KO/TKO                   Thomas Denny                                   WIN
11/29/03     TKO 14   Round 1   Submission                Pete Spratt                                                   WIN
1/31/04       UFC 46   Round 3   Decision (U)               Karo Parisyan                                               WIN
6/19/04       UFC 48   Round 1   KO/TKO                  Jay Hieron                                                  WIN
10/22/04     UFC 50   Round 1   Submission               Matt Hughes                                                LOSS
1/29/05       TKO 19   Round 1   Submission     Dave Strasser                          WIN
4/16/05       UFC 52   Round 3   Decision (U)   Jason Miller                                                      WIN
8/20/05       UFC 54   Round 1   Submission     Frank Trigg                                                       WIN
11/19/05     UFC 56   Round 2   KO/TKO                     Sean Sherk                                                   WIN
3/4/06         UFC 58   Round 3   Decision (S)   B.J. Penn                                                                     WIN
11/18/06     UFC 65   Round 2   KO/TKO                     Matt Hughes                                                WIN*
4/7/07         UFC 69   Round 1   KO/TKO                     Matt Serra                                                    LOSS
8/25/07       UFC 74   Round 3   Decision (U)               Josh Koscheck                                 WIN
12/29/07     UFC 79   Round 2   Submission     Matt Hughes                                        WIN*
4/19/08       UFC 83   Round 2   KO/TKO                     Matt Serra                                                    WIN*
8/9/08         UFC 87   Round 5   Decision (U)               Jon Fitch                                                                 WIN*
1/31/09       UFC 94   Round 4   KO/TKO                     B.J. Penn                                                                WIN*
7/11/09       UFC 100 Round 5   Decision (U)               Thiago Alves                                        WIN*
3/27/10       UFC 111 Round 5   Decision (U)   Dan Hardy                                                        WIN*
12/11/10     UFC 124 Round 5   Decision (U)               Josh Koscheck                                 WIN*
4/30/11       UFC 129 Round 5   Decision (U)               Jake Shields                                     WIN*
*Denotes championship fight
FitnessRX For Men magazine (January 2013 issue) 
A Star Is Born: "Pumping Iron" Put Schwarzenegger on the Mainstream Map
Archive · September 3, 2014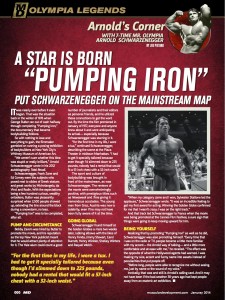 It was nearly over before it even began. That was the situation back in the winter of 1976 when George Butler ran out of cash halfway through completing "Pumping Iron," the documentary that became bodybuilding folklore.
So with nothing to lose and everything to gain, the filmmaker gambled on running a posing exhibition of bodybuilders at New York City's Whitney Museum of American Art.
"We weren't sure whether this idea was stupid or really brilliant," Arnold Schwarzenegger wrote in his 2012 autobiography "Total Recall."
Schwarzenegger, Frank Zane and Ed Corney were the subjects who posed next to slides of Greek statues and great works by Michelangelo, da Vinci and Rodin. With the expectations being a few hundred curious wealthy onlookers, Butler was pleasantly surprised when 2,500 people showed up, extending the line around the block during a snowstorm, no less.
"Pumping Iron" was to be completed, after all.
PUMP AND CIRCUMSTANCE
Bobby Zarem was hired by Butler to promote the movie and his reputation as the top New York publicist meant that he would attract plenty of attention for it. The Yale alum could count a good number of journalists and their editors as personal friends and he utilized these connections to get the word out. By the time the film premiered in January of 1977, everyone and anyone knew about it and were anticipating the arrival – especially because Schwarzenegger was starring in it.
"For the first time in my life, I wore a tux," continued Schwarzenegger, describing the scene at the Plaza Theater in midtown Manhattan. "I had to get it specially tailored because even though I'd slimmed down to 225 pounds, nobody had a rental that would fit a 57-inch chest with a 32-inch waist."
The sport and culture of bodybuilding was brought in front of the mainstream, as was Schwarzenegger. The reviews of the movie were overwhelmingly positive, with prestigious titles such as Newsweek and Time giving it tremendous accolades. The young man from Graz, Austria was now a celebrity, even if he may not have been fully aware of it at the time.
GOING GLOBAL
Schwarzenegger found himself at the Golden Globes a mere two weeks later, rubbing elbows with the likes of Henry Fonda, Jimmy Stewart, Carol Burnett, Henry Winkler, Shelley Winters and Raquel Welch.
"When my category came and I won, Sylvester Stallone led the applause," Schwarzenegger write. "It was an incredible feeling to get my first award for acting. Winning the Golden Globe confirmed for me that I wasn't crazy; I was on the right track."
And that track led Schwarzenegger to France when the movie was being promoted at the Cannes Film Festival, a sure sign that things were going to keep moving upward for him.
BEING YOURSELF
Realizing that by promoting "Pumping Iron" as well as he did, Schwarzenegger was also promoting himself. "Every time that I was on the radio or TV, people became a little more familiar with my accent – the Arnold way of talking – and a little more comfortable and at ease with me," he recalled. "The effect was the opposite of what the Hollywood agents had warned. I was making my size, accent and funny name into assets instead of peculiarities that put people off.
"Before long, people were able to recognize me without seeing me, just by name or the sound of my voice."
Ironically, that was and still is Arnold's calling card. And it may not have been if the bad weather 38 years ago had kept people away from an esoteric art exhibition.
Muscular Development magazine (January 2014 issue)
Defense Mechanism: NBA Bad-Boy L.A. Laker Ron Artest Hits From Downtown When It Comes to Training
Archive · September 3, 2014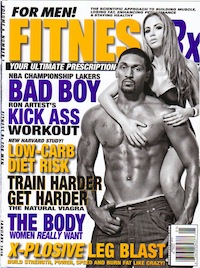 "I want to be ready. I have to be ready." That is what Ron Artest kept telling himself during his 73-game suspension in 2004, following the most infamous brawl in professional basketball history. The bad-boy swingman from the Queensbridge projects stepped over the line, and the National Basketball Association threw down the hammer.
"Sometimes the business end of basketball is so tough and stressful with (NBA commissioner) David Stern," said Artest, who endured the longest suspension not related to drugs or gambling that the league had ever handed down. Not only did he have to sit out the remainder of the regular season that had barely tipped off, but for the playoffs as well. The altercation with fans on the court and in the stands at the Auburn Palace resulted in not only Artest's suspension, but those of eight other players on both the Indiana Pacers and Detroit Pistons as well, ranging from one to 30 games in length.
Schoolyard Ball
To stay in shape, Artest (who signed a five-year, $33 million contract with the Los Angeles Lakers as a free agent this past summer) did what came natural to him— play the game he loves. "I played basketball with my brother and two friends," he recalled. "Two-on-two, all the time." He needed to stay sharp with his body and basketball skills and knew that he would be coming back the following year under intense scrutiny and pressure.
Besides posting up and taking jumpers, Artest also went back to basics— hitting the gym, something that he had been doing for quite some time. "I started working out with weights my senior year in high school (LaSalle Academy), one day a week," he said. "Once I got to St. John's, they had us training every day."
The game at the collegiate level is much more competitive and physical, so Artest really honed his skills once weight training became a regular part of his regimen. "In 1998, I was at my best, athletically," he admitted, speaking of his tenure with the Red Storm.
16th Pick In The 1999 NBA Draft
The following year, Artest entered the NBA Draft and was selected 16th overall in the first round by the Chicago Bulls. Another level higher, the competition on the hardwood increased two-fold and Artest kept up the resistance training. "I got better in the weight room," he said, commenting on the patience and dedication he has in that aspect. "I take my time; there's no rush. I'll spend two hours or more in there."
During the season, the grind of playing 82 games can take its toll, so being conservative off the court is not the worst idea. "I'll lift weights three times a week," the 6'7″, 260-pound Artest said. "I'll also do a lot of core exercises and agility exercises. You want to stay crisp."
During the off-season, Artest turns it up a notch or two. "You can be more intense because you have more time," he said matter-of-factly. "You don't have to cram everything into multiple days."
No Summer Vacation
Artest's off-season routine includes a brief two-week break in July to rest up after banging bodies in the paint for nearly 10 months, then working out one time a day four days a week for a period of three weeks. The next two weeks, he will train twice a day, every other day. Then Artest really turns it up as training camp approaches.
"In the last week of August and the first week of September, I work out four times a day," he said. "In the morning, I'll do some ball handling, shooting and post-ups for about an hour and 15 minutes. Then later on, I'll lift some weights.
"In the afternoon, I'll swim for about a half an hour," continued Artest. "Lastly, I'll play some full court basketball. Some days, I'll substitute the weight training for agility drills like jumping jacks with a lot of flexing, stretching and even yoga."
Full Body Workout
A day in the weight room for Artest is not the same as it is for many other people. The 29-year-old will hit every body part during a session and likes to mix things up with free weights and machines "not to get bored."
For chest, Artest will perform flat bench barbell or dumbbell presses and do three sets of 10 reps, followed by some push-ups. "For triceps, I won't do a lot because you're working them with the chest exercises, so I'll do just two sets of push-downs, 10 reps each."
Moving on to shoulders, Artest will do three sets of 10 reps each, for both front and side lateral raises. He'll switch between dumbbells and machines, as he does for biceps. "I'll do one set of dumbbell curls and one set on a machine," he said. Artest prefers using an extension machine for his back, doing three sets. Then he will do perhaps the most important body part for his profession.
"A lot of people forget about their legs," said Artest, "but that's where you get your power from." He will do some light sets on the leg extension machine before moving over to the leg press and squat rack. "I can do 225 pounds for 10 reps and then 315 pounds for four to six reps," Artest said. "I max out for one rep with 405 pounds. I used to go heavier like that, but now I mostly stick with 225."
The controversial small forward/shooting guard just returned to the weight room in 2009 after missing nearly three years of lifting, due to a nagging shoulder injury. He also prefers to train on his own. "I've worked out with a (personal) trainer at times over the years and with the team trainer, but I'd rather do it alone," he said.
As far as doing cardio, Artest doesn't work on the treadmill or any other machine for that purpose. "Basketball is the best cardio for you," he said, "if it's from playing offense and especially defense. You can play with people or even by yourself (for it to be effective)."
The weight training balances out all of the aerobic exercises that today's player performs. Having a solid foundation to work with has made the wider body frame an athletic one.
Good Things Come In Big Packages
Prior to the 1990s, players in the NBA were tall and thin and the last thing on their minds was bulking up in the gym. Take a look at a guy like Larry Bird. He was one of the best players of all time but was 40 pounds lighter, while two inches taller than Artest. The physiques back then were anything but impressive.
When players such as Karl Malone (6'9″, 265 pounds) and Dennis Rodman (6'8″, 240 pounds) began to fill out during their careers, a new precedent was set that muscles and hoops did mix well. Weight training became a regular part of preparation in the NBA, like suicide sprints and endless free throws.
"You can't be too big to play basketball," Artest said. In today's game, bodies such as that are commonplace and the game is no worse for wear because of it. All of the aforementioned play one of the forward positions, so the comparison is one that has merit to it.
Boxing Out
Because he plays such a physical game and is known for his defensive prowess, Artest is convinced what it takes to keep up that reputation. "I just like to be the strongest guy on the court," he quipped. "I'm not always going to be, but I try."
After 10 years in the NBA, you need to take certain precautions to stay on the court. "The muscles around my knees are healthy," said Artest. "I do agility drills— the same type of things that I'm doing in a game. I keep all the leg muscles strong. My quads, hamstrings and calves."
Getting older is not something that concerns Artest, either. "That's what drives me." Because he is in such great condition, who could blame him for being so confident? Part of that stems from the proper diet that Artest practices. "You want to eat the right way," he said with confidence. "Fast food, fried chicken, soda— that's very bad for you. It'll kill you. Also stay away from cheese and sweets. I try to get my meals from a health food store."
California Dreaming
Where he is currently playing, Artest should have no problem finding places to eat the right way. The bright lights of Los Angeles have welcomed the big city dweller from the other coast and he is quite content to be a role player on the defending NBA champions.
"Defense is going to be even better this season. We're going down in history as one of the all-time greatest teams," says Ron, "This is one of the best teams in the history of basketball; we have to take advantage of that.
"It will be great playing with future Hall of Famers and multiple All-Stars," said Artest. "But I don't look at myself as a superstar. I'm just a regular kid from the ghetto."
His reputation does come with some negative consequences. Last year as a member of the Houston Rockets, Artest was ejected in both Games Two and Three Western Conference Semifinals for hard fouls against the Lakers.
Hopefully Artest can concentrate on playing basketball in Hollywood and enjoy the benefits of having Kobe Bryant, Phil Jackson and rest of the "Showtime" crew on his side. Throughout his career, Artest has been the epitome of the bad-boy image and has not helped his own cause with some of his antics. Besides the brawl in 2004, Artest has been suspended on numerous occasions for flagrant fouls and for his off-the-court actions, which includes an arrest and 20-day jail sentence (which he only served half of) in 2007 for domestic violence.
You Can Go Home Again?
Ever since the New York Knicks passed up on the local product to select seven-foot French center Frederic Weis (who never played a game in the NBA) a decade ago, their fans have speculated on the team's fortunes if they had made the right move and picked Artest.
"Ten years later, they still talk about that draft," he said. "They were really emotional that I had a chance to go there. It was important that they (the Knicks) take me— that's what the city wanted. But I don't think that they understood the connection."
Although he maintains his off-season home in Indiana, Artest still has many family members in New York and comes back to visit quite often. Would he be interested in finishing his career as a Knick, once his current contract runs out?
"I owe it to my city to go, but I can't see the future," he said.
If that ever did occur, a long-ago mistake would be rectified and Artest may finally walk out of the tunnel at Madison Square Garden wearing home white. But until that day, he will continue to play basketball the only way he knows how— hard and tough.
The road for Artest has not been a smooth one, but the 2004 NBA Defensive Player of the Year has certainly paved his way. You can attribute much of his success to the time and effort that he puts in regularly in the weight room.
Off-Season Workout Program
First Two Weeks of July— Time off
Next Three Weeks— Four times a week, one time per day
Next Two Weeks— Every other day, two times per day
Last Week of August/First Week of September— Every other day, four times per day
During the Season
Three times a week, one time per day.
Statistics
YearTeamGamesPPGRPGAPG
1999-00Chicago Bulls           72             12.04.32.8
2000-01Chicago Bulls7611.93.93.0
2001-02Chicago Bulls2715.64.92.9
2001-02Indiana Pacers2810.95.01.8
2002-03Indiana Pacers6915.55.22.9
2003-04Indiana Pacers7318.35.33.7
2004-05Indiana Pacers724.66.43.1
2005-06Indiana Pacers1619.44.92.2
2005-06Sacramento Kings4016.95.24.2
2006-07Sacramento Kings7018.86.53.4
2007-08Sacramento Kings5720.55.83.5
2008-09Houston Rockets6917.1 5.23.3
Career60416.15.13.2                                
FitnessRX For Men Magazine (January 2010 issue)
Chiseled Abs With Mario Lopez – Fighting His Way To a Lean and Ripped Physique
Archive · September 2, 2014
The last thing that Mario Lopez needs is to change his appearance. His attractive and youthful face has been a constant throughout his television career and the last thing that any of his representatives want him to do is mix it up in the boxing ring, a place where good looks can be altered forever instantly.
But that doesn't stop him from making boxing about three-fourths of his weekly training routine.
"In my work, it's frowned upon, but I do it anyway," the co-host of the popular entertainment news magazine show "Extra" says with a sheepish smile. "So far, there's been no tragic accidents and it's worked out well."
KNOCKOUT ROUTINE
Lopez, who turned 40 on October 10, does take some precautions by wearing full head gear during his sparring sessions. It may prevent his face from getting cut, but he has been bruised up quite often and opened up on the top of his head enough to require staples to close the wounds. "I might be getting a little too old for it," he jokes.
Besides sparring at least twice per week, Lopez also performs other boxing skills such as hitting the bags and shadow boxing for a total of four boxing workouts every week.
"It's very therapeutic [for me] because I grew up wrestling and I like the one-on-one contact," he commented. "It's a little physical and a little violent so I can take out my aggression [that way]. It's very relaxing to me."
As a matter of fact, Lopez frequents Gio's Brooklyn Boxing Club near his home in Burbank, California (the location of the photo shoot and accompanying behind-the-scenes video that you can see on www.fitnessrxformen.com), an old-school style place that has murals covering their walls of all the legends of pugilism.
And while he knows that a black eye or a few missing teeth would not be a good career move, the competitor in Lopez overshadows any inhibitions he may have.
"The last thing that you want is to get your ass kicked by some Hollywood guy," he added.
WEIGHT IT OUT
Besides lacing up the boxing gloves, Lopez also will lift weights to stay in the type of shape that makes him appear half his age. "I'll use the weights two, maybe three times a week," the San Diego native says. "But because I don't use them on a regular basis [more days], I like to do full-body training each time."
In order to keep his muscles guessing, Lopez will mix it up between a low-weight/high-rep style, to a heavier one and also a quick circuit/CrossFit type of functional training. He prefers to weight train with a partner for the extra motivation and to be able to push himself a little further.
Here are some of the exercises that Lopez does in the weight room:
*Squats
*Smith machine shoulder presses
*Pull-ups
*Rope triceps pushdowns
*Seated cable rows
*Concentration curls
*Incline curls
*Cable curls
*Hanging leg raises
LUCKY NUMBER SEVEN
"I try to break a sweat every day," Lopez says matter-of-factly and added that his activities include running, hiking, swimming and biking. He tries to stick to more outdoor activities when the weather permits but will not let the rain or cold keep him from getting some exercise in each and every day.
"In the winter time, I'll be in the weight room more," he says, further adding that he can also use conventional cardio machines when necessary. "Stuff like the treadmill and [stationary] bike are good, and the elliptical is my best friend. Stick a TV in front of that and the time goes by. I actually also read a lot [on these machines]."
Perhaps someone with less commitment would find an excuse to skip a day or two while on the road for work, but not Lopez. "I always have sneakers and an iPod, so I can run or do some exercises in the room," he says. "Some push-ups, squats and crunches. Or hopefully the hotel gym will suffice."
Even with his busy schedule, which Lopez describes as "crazy, intense, fluid and long all the time," finding the time to fit the workouts in is a daunting aspect. But Lopez will make sure to structure his day so that it always includes it. "Ideally, I like to train in the morning," he explains. "But a lot of people don't like to spar and get punched in the face [that early in the day], so I have to do that in the afternoon.
"Whenever I can get it in, I make sure to get it in."
FOOD FOR THOUGHT
When it comes to nutrition, Lopez has a more realistic approach to it. "I don't believe in diets," he says. "I don't think that they work. I think that people work. I'm not a big calorie counter, although I try to [eat] pretty clean during the week and stay away from [eating] a lot of crap because it doesn't make me feel good.
"But on weekends, I let loose," Lopez continued. "I'm an excessive guy so when I work out, I work hard. When I play, I play hard, so I like to drink, have cigars and crush a whole pizza. It's all about balance. If I have something that I have to be prepared for, then I'm a little more strict and focused with my diet."
ROLE MODEL
As far back as he can remember, Lopez was always an active person. His mother entered him into a number of different sports and activities when he was as young as 4 years of age, such as karate, wrestling and dancing.
The adolescent also joined the local Boys and Girls Club of America and within a few years, noticed that he could also help the people around him that he cared about the most with his newfound knowledge.
"My family was heavy," remembers Lopez. "Maybe it's my culture; Mexican food is delicious but it's not exactly the most healthy thing [to eat]. You can't eat tortillas and butter and beans at every meal and remain fit."
The Lopez family went on a fitness program and they began to lose weight and get themselves into shape. Seeing that he can make an impact, Lopez was able to take this attitude to a higher level once he became a celebrity.
"It was important to me and [sic] to see people change their lives for the better," he says proudly. "I was inspired to help my community as a whole, especially with inner-city kids like myself. A lot of it is lack of knowledge, not knowing any better. So now I feel that it's a responsibility."
The former member is now one of the chairs and a fitness ambassador of the Boys and Girls Club of America. Lopez looked to further his role and put out his first book, Mario Lopez Knockout Fitness in 2008. "I decided to keep it simple and really spell it out, make it more of a lifestyle and not just a diet," remarks Lopez.
Two years later, Lopez published a cookbook titled Extra Lean, which became a New York Times bestseller. 2011 produced two more books, Extra Lean Family and Mario and Baby Gia, which is based on him and his real-life young daughter.
ON IN THREE, TWO, ONE…
Lopez hosts "Extra" with Maria Menounos and the show is on seven days a week all around the country. He began co-hosting the weekend edition in 2007 and is in his fifth consecutive season as host on weekdays.
This year will be the second for Lopez as the host of "The X Factor," and he is also on "Mario Lopez: One-on-One" (NuVo TV), and a children's cartoon on the Sprout network titled "The Chica Show." As if that weren't enough, Lopez also hosts "On With Mario," a nationally syndicated radio show.
"It's a busy schedule and intense, but I like it that way," he says. "I'm a motivated guy so I can do a lot."
And it seems like a necessity with all the work that Lopez takes on and will be expanding soon, albeit at home as opposed to the television studio. He and his wife Courtney Mazza were expecting their second child at press time.
WELL-ROUNDED INDIVIDUAL
When it comes to staying in shape, Lopez treats it like one of his many jobs and puts even more effort into it than anything else that he does. "Health and fitness are top priorities in my life," he says bluntly. "Working out complements everything else that I do, in every aspect of my life. It gives me more energy; it gives me more confidence. It makes me feel better about myself.
"I love the fitness community," concludes Lopez. "I love what it's all about, what it represents and I appreciate you featuring me in your magazine. It's just a matter of [living] a certain choice in your lifestyle and making it a priority. Because if you don't have your health, then what good is everything else?" Even at the expense of taking a few punches in the face every now and then.
All in the Family
Getting to spend quality time with your family members is always a good thing, even during a photo shoot. When you have a schedule like Mario Lopez does, every precious minute with the ones you love counts.
His father, Mario Sr. was on hand, as was wife Courtney Mazza and their 2-year-old daughter Gia. An impromptu opportunity to get some family portraits caused smiles all around.
"My dad just happens to be visiting me today," says Lopez. "I'm looking forward to seeing those shots. My mom will enjoy them."
Speaking of his father, Lopez continued, "He's like 65 and has got a lot of energy. I finally got him into working out but haven't been able to get him to curb his vices [smoking and drinking]."
One step at a time.
FitnessRX For Men magazine (November 2013 issue)
Kick Ass Total Body Workout With NY Giants Punter Steve Weatherford
Archive · September 2, 2014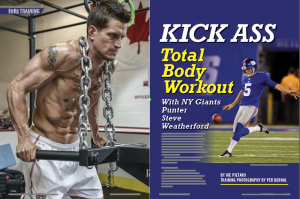 There are scores of people— professional athletes included— who would consider 35 to 40 minutes to be ample time for a full workout. Luckily for the New York Giants, Steve Weatherford is not one of them. You see, the talented punter spends 35 to 40 minutes just getting his body ready for his training session, and he doesn't shortchange himself for either.
"I call it a dynamic warm-up," he says, "and it's probably as important as the workout itself."
FIRST DOWN
Right after arriving at the gym, Weatherford does about two to three minutes with a weighted jump rope to get his blood flowing and create body heat. Then he'll do a dynamic stretching routine for 10 minutes and then 15 minutes of static stretching.
The seven-year NFL veteran then performs his abs and core workout before even entering the weight room. [Editor's Note: Read that part of Weatherford's workout in our September 2013 issue's "Kickin' Ass: New York Giants Punter Steve Weatherford's Hard 'Core' Training."]
ALL FOR SUNDAY
Since the Giants are already into their season, Weatherford modifies his training routine to better fit the grind of the NFL season. His entire weekly regimen is geared towards being fully rested, yet totally stretched out and ready to ensure that his right leg is akin to a cannon.
So he will perform compound movements with heavier weights on Mondays and use lighter weight with added reps on Fridays. "You lose endurance and stamina when you do heavy weight and low reps," the 30-year-old says. "So I'll do a full-body circuit on Friday and less sets and incorporate some explosive movements. I also don't want to shock my muscles that day and it's more for shaking out the soreness from the week, getting good blood flow and build up some endurance.
"I cut down my rest period in between sets from three minutes to a minute and a half on Friday," continued Weatherford, "and I'm very conscious about not exhausting my legs."
Here's what Weatherford does for the week during the NFL season:
MONDAY – Legs
1 – Front Squats: 135 pounds/4 reps, 185 pounds/4 reps, 225 pounds/4 reps, 265 pounds/6 reps, 305 pounds/4 reps
2 – Dumbbell Walking Lunges: 70 pounds/6 reps each leg (12 total), 80 pounds/5 reps (10), 90 pounds/4 reps (8)
3 – Power Cleans: 225 pounds/5 reps, 245 pounds/4 reps, 265 pounds/3 reps
4 – Leg Extensions: 185 pounds/8 reps, 205 pounds/8 reps
5 – Leg Curls: 160 pounds/8 reps, 180 pounds/8 reps
6 – Calf Raises: 405 pounds/5 reps (3 sets, toes pointed out, in and straight)
Cardio: 6 to 8 100-yard striders at 75% intensity
Recovery: Ice Tub (38 to 42 degrees up to the belly button for 10 to 12 minutes), deep tissue massage or acupuncture in the evening
TUESDAY – Off
Weatherford uses this time to be with his family and do charity work, but always makes sure to get in a 60-minute fascial stretching session to help eliminate soreness and improve his range of motion. "Recovery is more important," he said. "You don't want to have a tired or slow leg at practice."
WEDNESDAY – Push (Chest, Shoulders, Triceps)
Warm-Up: same as Monday
Core/Abs: adds an additional exercise and third set for each
1 – Dumbbell Flat Bench Press: 100 pounds/8 reps, 110 pounds/6 reps, 120 pounds/4 reps, 130 pounds/2 reps
2 – Dumbbell Incline Bench Press: 90 pounds/8 reps, 100 pounds/6 reps, 110 pounds/4 reps
3 – Dumbbell Military Press: 70 pounds/8 reps, 80 pounds/6 reps, 90 pounds/4 reps
4 – Weighted Dips: 40-pound dumbbell with chain/16 reps, 60-pound dumbbell/14 reps, 80-pound dumbbell/12 reps
5 – EZ-Bar Skull-crushers: (superset with close-grip presses) 115 pounds/10 reps, 125 pounds/8 reps, 135 pounds/6 reps
6 – Dumbbell Lateral Raises: 30 pounds/10 reps (2 sets)
7 – Front Plate Raises: 45-pound plate/10 reps (2 sets)
8 – Blowout Session w/ Rubber Band: pull-up bar, pressdowns – to exhaustion
Cardio: Half Gassers/4 sets
THURSDAY – Pull (Back, Biceps, Traps, Neck)
Warm-up and Core: same as Wednesday
1 – Weighted Pull-ups: bodyweight/10 reps, 25-pound dumbbell with chain/10 reps, 45-pound dumbbell/8 reps, 65-pound dumbbell/6 reps, 85-pound dumbbell/4 reps
2 – Lat Pulldown with Wide Grip: 225 pounds/8 reps, 245 pounds/6 reps, 265 pounds/4 reps
3 – T-Bar Rows: 70 pounds/10 reps, 90 pounds/8 reps, 115 pounds/6 reps
4 – Bent-over Dumbbell Rows: 100 pounds/8 reps (2 sets)
5 – Bent-over Raises: 25-pound dumbbell/10 reps (3 sets)
6 – Biceps Exercises (2 from the following):
• EZ-Curls – varying weight/10 reps (2 sets)
• One-Arm Preacher Curls – 40-pound dumbbell/10 reps (2 sets)
• Rope Cable Curls – 135 pounds/10 reps (2 sets)
• Rubber Band – till exhaustion, 1 set
7 – 3-Way Neck machine: 2 sets
8 – Shrugs: varying weight/15 reps (3 sets)
9 – Upright Rows: varying weight/10 reps (3 sets)
FRIDAY – Full Body
• Weatherford hits every muscle group in the entire body, incorporating lighter weight, higher reps and fewer sets.
• He will do different exercises than he did earlier in the week and include more explosive movements.
• Side lunges with 115 pounds are performed every Friday.
ALL IN A DAY'S WORK
Upon arriving at the Giants' practice facility every morning at 7:00 a.m., Weatherford jumps in the ice tub, sauna and shower before eating breakfast. The first team meeting of the day takes place at 8:00 a.m. and then he hits the gym by 9:15.
After working out, Weatherford attends a special teams meeting and then they hit the practice field at 11:00 a.m. Two hours later, a cold tub awaits him. Then a quick lunch and a post-practice meeting wraps up the day at around 3:15 p.m. Things change a bit on Fridays, as the team practices earlier and the players hit the weight room afterwards.
But regardless of nagging injuries or not, Weatherford never takes a day off from working out or practicing. "If I have a swollen elbow or something like that, I may back off the weights a little," he explains. "You have to be smart with your body and be ready on Sunday."
Because he is a punter and place kick holder, Weatherford knows more or less just how banged up he will get on game day. "That's what's nice about my job," he says smiling. "The soreness level I'm going to have will be pretty consistent. It's not like a defensive player, who has to administer big hits all day long."
Realizing that the NFL season is quite a long haul, Weatherford breaks down each day during the week and prepares enough for each. "With the four preseason [contests], 16 in the regular season and up to four in the playoffs, you can play up to 24 games in a year," he describes. "So you need to be at peak performance once a week and eliminate as many variables as possible."
To do this, Weatherford treats himself like a baseball pitcher and is on a "pitch count," per say, during practice. "I'll punt 60 times on Wednesday, 45 on Thursday and 30 on Friday," he says. "This helps my recovery and allows me to be more productive."
Then on game day, Weatherford needs to prepare for that single play he trots out on the field for every so often. "It's not like a linebacker," he says about punting. "You only get one rep, so you have to stay active on the sidelines."
During pregame, Weatherford will punt 30 times and then he will constantly stretch out and practice punt into a net so he "feels nice and loose on fourth down." By the time the game is over, Weatherford's leg will have kicked approximately 70 times.
And then it all starts again the following morning with that 40-minute warm-up.
[sidebar] CHARITY WORK
Be sure to visit Steve Weatherford's official website, www.Weatherford5.com, and join him in one of his many charitable roles:
• Weatherford is nationally recognized for his extensive philanthropic work, with his primary outreach focused on children, health and fitness, and family.
• Closest to his heart are the causes in the town of Terre Haute, Indiana, where he was born and raised. Weatherford has established several charities there, including Rush the Punter and Kicks for Kids.
• He has also been just as generous in his current home of New York and New Jersey. In 2013, Weatherford was named Health and Fitness Ambassador of the Boys and Girls Club of New Jersey, serving as a role model, mentor, and fitness and nutrition coach to more than 80,000 kids throughout New Jersey.
• In 2013, Weatherford was also named Head Coach for Wellness in Schools, leading the charge and acting as spokesperson for that organization's recess fitness program for more than 50,000 students throughout the New York metro area.
• In the summer of 2013, he was named the National Vice President of the Muscular Dystrophy Association.
• He also serves as spokesperson for Second Chance Toys, the Breast Cancer Awareness Foundation and The Steve Weatherford Charity for Ghana, in addition to the charitable work he participates in on behalf of the New York Giants.
• In 2013, Weatherford was recognized for his outstanding community service by the NY Giants organization with the coveted Wellington Mara Award.
[side bar] STRONG HOLD
Many people watching a football game take a holder's job for granted, but Steve Weatherford doesn't view it the same way. "I take it very seriously," he says. "You're holding the success of another man's family, the mouths that he has to feed, literally in your hands."
For the last two years, Weatherford worked with Lawrence Tynes. But during the off-season, the Giants made a change and now Josh Brown will be splitting the uprights for them at MetLife Stadium.
"It comes down to repetition," Weatherford explains. "Like shooting free throws [in basketball]. The long snapper, holder and kicker working tirelessly every day."
[sidebar] Steve Weatherford At a Glance
Height: 6'2"
Weight: 211 pounds
Age: 30
College: Illinois
YEAR           TEAM           G           PUNTS           YDS               AVR
2012           Giants           16           58                 2,284           47.5
2011           Giants           16           82                  3,745           45.7
2010           Jets                 16           84                 3,581           42.6
2009           Jets                 16           80                 3,357           42.0
2008           Jaguars             5           21                   915             43.6
2008         Chiefs                 2           12                     512             42.7
2008         Saints                 7           26                   1,094           42.1
2007         Saints               16           63                   2,757           43.8
2006         Saints               16           77                 3,369             43.8
CAREER                             110         503               22,087             43.9
FitnessRX For Men magazine (November 2013 issue)
Get Jacked and Sharper Than Ever With NFL Hall-of-Famer and CBS Analyst Shannon Sharpe
Archive · September 2, 2014
There are times when it takes more than just willpower to say no to that cheat meal. We have all been there when the craving becomes almost overwhelming and you have to reach down deep for the strength it takes to walk away from what you know is a bad choice and stick to what is better for you.
Shannon Sharpe has been there, but not too often, done that.
"It's hard to justify (the cheat meal) because I work so hard in the gym," the retired 14-year NFL veteran says. "If I want to go eat some ribs and french fries, I just think back to the six to eight cardio sessions I did that week. Or the three cardio circuits. Maybe it's because I paid someone to cook my meals for me, paid this guy to train me and paid for this gym membership. It just doesn't add up to me. So why bother?"
This is a man who has no reason to not enjoy some fattening and unhealthy food except for the fact that he is in the best shape of his life at 45 years of age and nearly a decade removed from the gridiron.
"I trained for 14 years for the (Denver) Broncos and (Baltimore) Ravens," Sharpe explains during a break of his photo shoot at the House of Payne Personal Training Facility in Lilburn, Georgia. "Now I train for me."
DAY OFF? NOT LIKELY
Because Sharpe is no longer an active football player, he has the luxury of going at a pace he chooses, rather than the team's strength and conditioning staff's pace. But that doesn't mean the training is any easier. Quite the contrary— the perennial All-Pro tight end very rarely takes a day off from the gym unless it's due to his employment with CBS Sports as an analyst on "The NFL Today," a position he has held since he hung up the helmet and shoulder pads after the 2003 season.
"If I want to do three cardio sessions in a day, that's what I'll do," he says. "If I'm tired, then I'll take a day off. I go by feel, whereas when I played, I pushed (it) no matter how I felt. They were paying me; teammates were counting on me. So everything I did was like— OK, I'm in the best football shape that I can possibly be in."
As humble as he may try to sound, there is no mistaking that Sharpe rarely feels the need to sit out a scheduled workout. During the "off-season," he hits the gym each and every day, even though he tries to downplay it by saying, "Sunday I might go to the gym and just do abs, but it's really my day off." According to his former trainer Rashid "Roc" Shabazz, Sharpe has a regimented schedule to ensure that he gets all of his workouts in.
"During the NFL season, he leaves Atlanta on a Saturday, does the show on Sunday and flies back the same day," the IFBB pro bodybuilder says. "That's his one day off during football season. He usually trains seven days a week."
OUT WITH THE OLD…
During his playing days, Sharpe stuck with the basic compound movements such as bench press, shoulder press and squats and also did a lot of track work. He spent a good three hours a day doing both weightlifting and running, and in the event that it was raining, Sharpe would use a treadmill to duplicate the same type of routine he would have performed on the outside track. "There were no days off for me," he says. "Off means that someone was gaining on you. Someone was working out while you weren't, so I always had that in the back of my head and never let my guard down."
When he first retired, the three-time Super Bowl champion stuck with what he knew and even turned it up a notch. "Shannon wanted to see how he could look if he trained like a bodybuilder," says Shabazz, who also said that Sharpe is a big fan of the sport of bodybuilding. "He put on about 30 pounds of muscle after one year of doing that type of workout."
Shabazz, who has known Sharpe since 1996, realized just how good his genetics were and they had to change things up for a very specific reason. "(Shannon) was wearing $8,000 custom suits and he couldn't keep going up and down with his weight," he says. "So then we began incorporating functional training."
Trying to get away from staying too bulky, Sharpe began experimenting with kettlebells and circuit training and took even more spin classes than he had before. "I wanted to take my body into a different direction," Sharpe describes. "Mainly my workouts are cardio and cardio strength. I may do five or six Flywheel Sports (an indoor cycling studio) classes a week, and then I'll do some circuit training where I am trying to get my heart rate up. When you bench or squat, you're really not trying to elevate your heart rate. You're just trying to move maximum weight as opposed to moving as fast as you can for a period of time."
Here's an example of one of Sharpe's circuits:
Row Machine – 500 meters
Kettlebell Squat Presses – 15 reps
Ball Slams – 25 reps
Kettlebell Swings – 25 reps
Sharpe performs anywhere between three and five rounds of the above, and increments his way up to 1,250 meters on the row machine by the time he is finished. After a two-minute rest period, he moves on to five to eight rounds of:
Kettlebell Snatches – 15 reps
Battle Ropes – one minute
Sledgehammer Swings on Tire – 20 reps each arm
It is a full-body workout performed every day that varies. Depending on how Sharpe feels, he will mix things up with different movements, different order of movements and so forth. He never does the same workout two days in a row as to cause muscle confusion. But the usual regimen consists of seven to eight movements done five times each in a rotation.
Instead of one of the above exercises, Sharpe may switch it up for either burpees or TRX-type rings. And even though he has a clearly defined six-pack, the only isolated movement for his abs is weighted rope crunches. "I always keep my abs tight during the other exercises," says Sharpe, who also regularly includes a 43-minute spin class into his day.
When asked if he feels that he is getting a lot more out of this type of cardio-based workout, he didn't hesitate with a response. "Yes. I look at it like this— why do I need to squat 500 pounds at this age? For me, it's more about fitting into my clothes. However you're fitted, that's the way they're going to come back." That seems to have paid off for Sharpe, who was named to Vanity Fair's2013 Top 10 Best-Dressed Sportscasters list.
NUTRITIONALLY, MORE OF THE SAME
The old saying, "If it isn't broke, don't fix it,' can be used as the mantra of Sharpe's diet. He basically eats the same things day after day and standing at 6'2", is shredded at anywhere between 236 and 243 pounds. Of course, all of this is for an obvious, yet sometimes overlooked reason.
"For the most part, I eat chicken and fish," he says. "I also eat bison now. I don't eat a lot of turkey anymore but will throw some lamb chops in there. Broccoli, sweet potatoes and asparagus occasionally… and that's it."
When people asked Sharpe if he gets bored with such a limited menu, he tells them he doesn't eat the same things looking for a different result, but rather the same result. "I hope to continuously do what I have been doing for 20-plus years and keep seeing what I have seen."
As a matter of fact, Sharpe even takes along the Tupperware containers with his meals while on road trips three days or less to ensure that he has the right type of food regardless if he is home or not.
During his playing career, Sharpe was more cognizant of the macronutritional breakdown in his diet. These days, he just weighs his food for portion sizes, such as 10 ounces of chicken, eight ounces of fish or bison and as much broccoli or sweet potatoes as he wants.
"I eat healthy," he says, and also added that he has never drunk coffee and has only tasted alcohol a few times, the last time being after his first Super Bowl win in 1998. "Restaurants prepare their food for 5,000 people. The people that prepare my food for me do it for just one so I don't really have to worry about anything."
Even when he does take that rare day off from the gym, Sharpe's menu stays the same. He did experiment with trying to eat less on his day off, but found himself actually eating more. "So now I just stick with what works best for me." And he feels that the biggest issue that people experience is not necessarily the type of food that they eat, but rather the amount.
"It's hard to overeat good food," the eight-time Pro Bowler says with a laugh. "I don't see people sitting down eating 20 ounces of chicken breast and a bowl of broccoli. But when you start talking about cheeseburgers and pizza, that's where you run into a problem— eating more than what you really need to."
"COMFORTABLE BEING UNCOMFORTABLE"
Implementing some unorthodox aspects into his physical training helped prepare Sharpe in perhaps an even more important aspect, one of the mental variety. "I tell people all of the time that you have to become comfortable being uncomfortable," he said in a slow and controlled manner. "I did this throughout my playing days to make sure that I stayed in that mindset."
To do so, Sharpe— who was elected to the Pro Football Hall of Fame in 2011— would go two or three days without eating a single thing. He did this to test himself and see if he can get to that point of being uncomfortable and stay there while not giving in.
"You know how uncomfortable and moody you become when you miss a meal?" Sharpe asked no one in particular. "So imagine missing two, three, four or five meals. I still had the same mindset to stay in character and not get outside of (sic) who I was. Not to become moody and take the aggression out on someone else. Just to stay there."
By training his mind and body to perform under undue stress, Sharpe was able to surpass anything that he would encounter in the gym or on the football field. He pushed himself in other ways because he knew that come the fourth quarter, he could call on his body and it would respond.
"I always trained with the thought that if it's hurting me, then it would be killing someone else," the Savannah State product says. "And that gave me the strength and perseverance to keep going. You have to be willing to take your body, mind and soul places that others won't go. That's the only way you'll be great. There is no shortcut to that and there's a price for being successful. And if you're not willing to pay that price, if you're not willing to go to that place, then you're never going to be great or successful."
TIME TO TURN THE PAGE
When Sharpe walked off the field after his final game in January of 2004, he planned on taking the same two or three weeks off and get back into training again for the next season. But then he received a telephone call from CBS and was offered a job that he could not refuse.
"For the first time in 20 years, I thought about doing something other than playing football," he recalls. "And once that happened, I realized that I really need to get this job because my mind is not totally on (the game) anymore."
Sharpe made a few calls to his agent Marvin Demoff, his brother Sterling (a former Green Bay Packers wide receiver and current NFL Network analyst) and head coach Mike Shanahan and came away with the same answer when all of them asked him if he was sure. "I'm done," he said.
Looking at it objectively, Sharpe used the rationale that he would rather retire one year too early than one year too late. Earlier in his career, he could have big game after big game and was the number one receiving threat on his team, but that began to change over the years.
"Could I have played another year and catch 60 passes for 800 yards?" says Sharpe. "Sure, but I started thinking that I'm not the guy that these fans remember when I was helping lead teams to the Super Bowl."
So with no regrets, Sharpe left the playing field for the television studio. "I was able to come right out of the game and into a desk job that I really love. CBS gave me the opportunity to showcase another side of myself, and I'm really thankful for that."
And so are we, Shannon. So are we.
Be sure to read Shannon Sharpe's new FitnessRx For Men column each and every month in the print magazine and on our website www.fitnessrxformen.com.
Shannon Sharpe At A Glance
Years Played – 1990 to 2003 (14 total)
Games Played – 203
Receptions – 815
Yards – 10,060
Yards Per Reception – 12.3
Touchdowns – 69
Teams Played For:
Denver Broncos (1990 to 1999, 2002 to 2003)
Baltimore Ravens (2000 to 2001)
*3-Time Super Bowl Champion (XXXII, XXXIII, XXXV)
*NFL 1990s All-Decade Team
*Denver Broncos 50th Anniversary Team
*8-Time Pro Bowl (1992 to 1998, 2001)
*4-Time First-Team All-Pro (1993, 1996 to 1998)
*Second-Team All-Pro (1995)
(FitnessRX For Men magazine, September 2013 issue)
Chris Benoit: Were Steroids Only the Tip of the Iceberg?
Archive · February 17, 2009
" The big killer in our industry is the drugs and alcohol-not the steroids," said Ted DiBiase, who has been part of the wrestling community since 1975.
He knew Chris Benoit and found it hard to believe that the same man was capable of committing such acts. A double-murder-suicide is shocking regardless of who is involved.  Someone in the public eye polarizes that even more.
DiBiase, known in the wrestling circuit as 'The Million Dollar Man' and is currently a full time evangelist and motivational speaker for the Heart of David Ministry, had a hard time accepting what occurred that fateful weekend in June. "[Benoit] is the last guy that anyone would have suspected to be capable of doing what he did," he said. "In his right mind, he wouldn't have. There's got to be something deep-seeded. A mental problem."
Unfortunately, no one will ever know exactly what occurred in the Benoit home during those three days in June. What drives a man to bind and kill his wife; asphyxiate his 7 year-old son the following morning; and then take his own life via hanging a day later?
"Who spent the most time with the guy?" wondered Carmine Azzato, known as 'Demolition Blast' professionally. "There had to be some sign that something was going on. They keep saying that he was the best guy. There was no sign of some rage?"
Azzato knew Benoit from their days together when both wrestled for the NJPW (New Japan Pro Wrestling). He remembered him back then as being "skinny with a mullet," and "always having a black eye or a bump."
Benoit arrived in Japan in 1989, adopted a masked identity known as 'The Pegasus Kid' and won the IWGP Junior Heavyweight championship a year later. What transformed this thin-framed man competing in the juniors to the muscle-bound hulk that packed 220 pounds to his 5'10" frame?
"JUMPIN' ON THE JUICE"
Toxicology reports completed on Benoit showed that he tested positive for Xanax and hydrocodone and an elevated level of testosterone, and negative for anabolic steroids.  Investigators also discovered prescriptions for anabolic steroids at the crime scene. In April, Benoit passed a drug test for the WWE administered by Aegis Labs. How widespread are steroids in the wrestling industry?
"Very widespread," said Will Kaye, who has been wrestling in the independent circuit since 1996, most recently with the PWR (Pro Wrestling Revolution) and is known as 'Brimstone.' "The kids today think that the only way to get that spot is to look like 'The Rock' or 'Stone Cold' Steve Austin. At least 60 percent of the roster has done an illegal substance at one point in their career. You're on the road over 300 days a year. Where do you find the time to work out that much? That's why they take that stuff"
Azzato, who stands at 6'7″ and 350 pounds and has been wrestling for over 20 years, painted a clearer picture of the problem. "I personally witnessed guys shooting up steroids overseas in India, Germany. I was personally asked to do steroids. They even named them-Winstrol and Dianabol. People told me that if I really want to have my career take off [to take steroids], at my natural size, I would be a monster."
Azzato and Kaye both stated that they have never used performance-enhancing drugs. "I saw what people go through," Azzato said. "The mood swings, the rages. The guys that shoot up in the locker room, you're in the ring with them 20 minutes later. They're like a thoroughbred.
"Just one word, they erupt," Azzato continued. "Being in this business 20 years, I've seen a lot of eruptions over the years."
Bobby Riedel, an agent for some of the top names that have gone through the WWF/WWE such as DiBiase, Greg 'The Hammer' Valentine and George 'The Animal' Steele, admits that there are steroids present in wrestling.  "I think it's there," he said. "I think that it was more then than now because it was legal then. I've seen some of [the wrestlers] inject steroids in the dressing room, stars – but not in the WWE."
Riedel commented on the OVW (Ohio Valley Wrestling), which is an independent promotion and serves as the official training ground for the WWE. "No one is going to say to you that you have to jump on the juice. But it could be implied. What they want you to look like is a pro wrestler. That doesn't mean that you have to take steroids. But you can't look like a backyard wrestler. I will be willing to say that steroids are implied."
" I know for a fact that a lot of guys in the OVW, if they're looking small, someone, maybe even one of their peers, would say to them that the may need to take something," Kaye said. "It's killing them early. For 10 or 12 years of fame, you're losing your life. Is it worth it?
"They do their cycles [of anabolic steroids] and say, 'we'll be on and we'll be off.' They're killing themselves. Look at 'Davey Boy' Smith [former WWF star who passed away in 2002 at the age of 39 of an enlarged heart with evidence of microscopic scar tissue, possibly from steroid use]. He has a son that's training as a wrestler and his father goes and dies. Now that is going to taint his son."
"Steroids are present all over athletics now," said Gary Rannazzisi, who wrestled on the independent scene in the ESW, PWA and PWR as 'The Italian Sensation.' "They're training in the gym, lifting weights. That's where the pressure starts."
Azzato further commented on the wrestlers he witnessed using steroids back stage before bouts, "They're still alive and active, and people look up to them as role models.  I don't want to say their names.
"It's in the business," he continued.  "I'm not saying Vince [McMahon, Chairman of the WWE Board of Directors] says you have to do steroids, but you look at some of the guys – they're freaks of nature."
DiBiase was not one of the biggest, but still a very successful wrestler in his prime. His feelings are that in order to succeed in the business, you have to be athletic and have charisma, as well.
"It's not always the great big guys," he said. "Look At Rey Mysterio. Any pressure is pressure that you put on yourself. At no time did I ever get pressured to take steroids. Do I think McMahon would expect the wrestler to look like an athlete and have presence in the gym? Absolutely. But I don't think that anyone has been pressured to take steroids. I can only speak from personal experience. It may de different for other guys."
'THE ROCK 'N' ROLL LIFESTYLE'
Perhaps even more responsible for some of the tragedies in the wrestling world than steroids has been the 'partying' with so-called 'recreational' drugs and alcohol. Painkillers are also a problem, and go hand-in-hand with the physical abuse that their bodies take on a nightly basis.
The argument will be that wrestling is fake. A better way to put it is that it is fixed. The outcome of the match may be known before the combatants enter the squared circle, but they still have to entertain. And there is no way to fake falling from atop a steel cage to the ground.
The stars of professional wrestling can be on the road for more than 80 percent of the calendar year, going from city to city. The travel and demand can be stressful, and at times, they have resorted to drugs and alcohol.
"It's not just the steroids killing the athletes now," Rannazzisi said.  "It's the lifestyle, the painkillers, the cocaine and amphetamines."
At one point in his career, DiBiase also had a problem with 'The Lifestyle.' "I use myself as an example," he said. "I succumbed to the temptations of the road. The drugs, alcohol and women. At that point in my life when I got confronted with it, I made a decision. Ted DiBiase had to make a conscious decision to do something about it. It wasn't Vince McMahon's fault that I was doing it."
Azzato began traveling as a professional wrestler at the impressionable young age of 17 and also fell victim to the temptations. "Back then, I'd go out for a drink, we'd get hammered. When I got married at 21, I stopped. Seeing what I see, the painkillers and alcohol in this business, it's ridiculous. Some guys even went into the ring intoxicated."
Rannazzisi elaborated on what goes on when the lights and speakers aren't on. "Living in and out of hotels every day. Planes, eating on the run, the pounding in the ring and going out partying – the rock 'n' roll lifestyle."
Azzato added, "You always knew the wrestlers were there because they were loud and putting the beer and liquor away."
Steroids are not the only issue here, as these gentlemen have made perfectly clear.
DEATHS IN PROFESSIONAL WRESTLING
Wrestlers have died at an alarming rate since 1985. Not all of them have left us due to drugs and the like. There have been accidents and injuries suffered in the ring, as well. But to have a list of 96 names that have died before the age of 65, leaving this earth as a result of old age is not in the cards if you are a wrestler.
Eddie Guerrero was a big name wrestler in the WCW and WWF/WWE and had numerous issues with steroids and drug abuse. In 2002, he died at the age of 38 due to what the coroner ruled as heart disease, complicated by an enlarged heart resulting from a history of anabolic steroid use.
"I met Eddie at an independent show at the Elks Lodge in Queens in about 2002," said Kaye. "He had lost his job with the WWF due to the drug use – not the steroids. That was his down period. You can tell he was a beaten man.
"One of the best guys that I ever met. A class act. He was friendly and opened his arms to you. He kicked the habit and stopped with everything – even the 'roids. He went back there (WWE) and they gave him a championship. I even cried that day. I was very happy to see that. And then he had his heart attack. It was a big loss."
"What's killing them?" DiBiase said, asking himself the question. "Most of them died from recreational drugs and alcohol."
On August 13, Brian Adams was found by his wife unconscious.  Responding paramedics could not revive the 43 year-old retired wrestler. His career in the WWF began in 1990 as 'Crush,' the third member of 'Demolition' along with Ax and Smash. It was speculated that Adams used steroids, but autopsy and toxicology reports were still unavailable at press time.
Adams remained a member of Demolition after Ax, Bill Eadie, had a falling out with the WWF, which resulted in a lawsuit over the name 'Demolition.' In 1992, Eadie and Azzato joined as a tag-team known as the 'New Demolition' – Ax and Blast,' and competed in the UWS, IWF and NWA-NY. Because of their tight friendship, Azzato may have lost a chance at wrestling stardom.
In January of 1993, Azzato had 'Classy' Freddie Blassie, a wrestling legend, contact the WWF on his behalf. He was invited down to wrestle in a 'dark match' (not televised) on a WWF Monday Night RAW card. Following that, Azzato attempted to contact the WWF on numerous occasions without receiving a return call.
"Blassie told me that they [WWE] have an issue with Eadie, and that Vince hated him," Azzato said. "Blassie said that if I ever wanted to see the WWF, I had to separate myself with Eadie. I committed career suicide. But I was not going to waver my friendship with Bill."
Azzato did not know Adams well enough to comment on his possible steroid use.
SHAM DRUG TESTS?
The WWE first instituted drug testing in 1987 and in February 2006, instituted the Talent Wellness Program as a deterrent to steroid and drug abuse. "We believe our Wellness Program is at the very least comparable to those of professional sports and is a program that will benefit WWE superstars for generations to come," the WWE released in a statement.  "For 20 years the WWE has been doing something to address the issue of steroid and drug use."
Jennifer McIntosh, Vice President of Media Relations for the WWE, said in a statement, "The substance abuse and drug portion of the Talent Wellness Program is one of the most aggressive of its kind compared to testing programs initiated by competitive sports organizations such as the NFL, Major League Baseball, NHL, NBA, NCAA and the International Olympic Committee, and is unique for an entertainment company."
"I believe that Vince's policy is as stringent as any," DiBiase said.  "They have a '3 strikes' policy. First, a 30-day suspension without pay. Second, a 60-day suspension without pay. And third time – you're gone."
Critics have knocked the WWE's drug testing, which apparently allows for a higher testosterone level than other sports before considering a test 'positive,' and that it prohibits only 'non-medical' use of banned drugs, giving a wrestler with a failed test an opportunity to produce a doctor's note. Are these tests a sham?
"I think so," said Azzato. "But that's only my opinion. On the road, they  [wrestlers] would drink vinegar to wash drugs out. They had a remedy for everything, either the juice or from smoking weed. They gave them a 24-hour notice in the WWE.  I don't know how strict they are with it.
"McMahon has the power to stop it in his company," he continued. "He has to say 'zero tolerance.'  He's got to say that this guy was tested and suspended. And that means from the most popular to the least popular. Any wrestler."
Kaye feels that testing is a step in the right direction. "I thinks it's positive that he's [McMahon} doing the testing. If they move forward with it, it will be better for business.  You're keeping guys healthier."
What is the answer?  "There is no answer," said Kaye. "There's always going to be somebody that wants to take it to the next level. If somebody is selling it, someone will be there to buy it. If it's not wrestling, it'll be baseball or football."
In a statement, the WWE said that they "find the abuse of drugs to be unacceptable," and that they "discourage" such behavior. The statement further reads that they "cannot account for the poor personal decisions a small minority may make outside the workplace."
'ROID RAGE?
The Benoit case is extremely complicated in that there had to be so much going on in his mind that led him to the tragedy. The easy culprit is to blame his actions on steroids. But is that so easy to determine? Everyone that we interviewed came to the same conclusion that an incident that took place over the span of time that occurred could not have been as a result of a rage caused by steroids.
"The media is going to make this a steroids issue," Riedel said. "I don't want people to forget that three people died and what drove this person to do this. People are saying it's 'roid rage. But not over three days.
"I don't believe that steroids caused this. It was way too thought out to be 'roids."
"Whatever was the beginning of it, there was a lot of thought. He was mentally unstable," said Azzato. "It was more than steroids. I didn't know the lifestyle he lived at that point. But to do something that crazy…"
"That's deeper than 'roid rage-over three days?" said Rannazzisi.
"Bottom line is, we all have out demons," DiBiase said.
The phenomenon known as 'roid rage' is something that would seem to occur in an instant, similar to what Azzato called an 'eruption.' The Benoit case has many differences with the time frame and the way the bodies were discovered. Bibles were found next to his wife and son's bodies, which has been speculated as Benoit trying to absolve their souls.
TIME OFF
Considering that wrestling does not have a season, per say, there is no 'offseason' for the wrestlers to have time off to recuperate and spend time at home.
Insider websites reported that Benoit had requested some time off before the incident took place to 'get his mental health in order' and was denied by the WWE. He was allegedly told to 'stay with it a little longer' and then he would be granted the time.
In the past, Benoit did request and was granted time off. "I know that Benoit had three months off while his wife had surgery," said DiBiase. "If you say to them that you need some time off, they'll (WWE) work with you and give it to you. Two times in my career when I desperately needed the time off when I almost got divorced, I was given it. I was part of the tag-team champions with I.R.S. and I went to Vince and explained it to him.  He told me I got it and to come back when I can."
The WWE responded in regards to the question of Benoit requesting time off with, "Over the years, we have worked to reduce talent travel and time away from home," McIntosh said in a statement. "We provide time off for talent to address personal issues, as we did for Chris Benoit when he took time off from May to October in 2006." McIntosh further stated that the WWE does not have a record of Benoit requesting any time off in 2007.
'YOU HAVE TO LOOK AT THE INDIVIDUAL'
The general consensus is that you cannot place the blame on the WWE for what happened with Benoit, or for the matter, any wrestler that chooses to use steroids.  Everyone makes their own decisions in life, and unfortunately, some of those decisions lead to tragedies.
"You have to look at the individual and not the company," Riedel said.  "who knows what they're doing in their private time?"
Kaye added, "My biggest thing is that you can't blame an industry on what one person decides."
"He's [McMahon] not their babysitter," said Azzato. "A guy is going to do what he wants to, regardless."
DiBiase concluded, "At what point do we hold responsible those people for their actions?  What do you want McMahon to do?  The NBA to do? The NFL to do? They talk about unions.  I don't know what that will do.
"Can improvements be made? There's always room for improvement in everything."
In this instance, improvements may save a life or two.