A Star Is Born: "Pumping Iron" Put Schwarzenegger on the Mainstream Map
Archive · September 3, 2014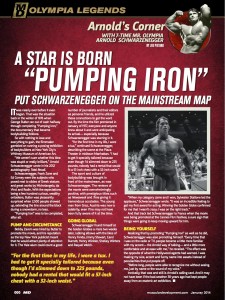 It was nearly over before it even began. That was the situation back in the winter of 1976 when George Butler ran out of cash halfway through completing "Pumping Iron," the documentary that became bodybuilding folklore.
So with nothing to lose and everything to gain, the filmmaker gambled on running a posing exhibition of bodybuilders at New York City's Whitney Museum of American Art.
"We weren't sure whether this idea was stupid or really brilliant," Arnold Schwarzenegger wrote in his 2012 autobiography "Total Recall."
Schwarzenegger, Frank Zane and Ed Corney were the subjects who posed next to slides of Greek statues and great works by Michelangelo, da Vinci and Rodin. With the expectations being a few hundred curious wealthy onlookers, Butler was pleasantly surprised when 2,500 people showed up, extending the line around the block during a snowstorm, no less.
"Pumping Iron" was to be completed, after all.
PUMP AND CIRCUMSTANCE
Bobby Zarem was hired by Butler to promote the movie and his reputation as the top New York publicist meant that he would attract plenty of attention for it. The Yale alum could count a good number of journalists and their editors as personal friends and he utilized these connections to get the word out. By the time the film premiered in January of 1977, everyone and anyone knew about it and were anticipating the arrival – especially because Schwarzenegger was starring in it.
"For the first time in my life, I wore a tux," continued Schwarzenegger, describing the scene at the Plaza Theater in midtown Manhattan. "I had to get it specially tailored because even though I'd slimmed down to 225 pounds, nobody had a rental that would fit a 57-inch chest with a 32-inch waist."
The sport and culture of bodybuilding was brought in front of the mainstream, as was Schwarzenegger. The reviews of the movie were overwhelmingly positive, with prestigious titles such as Newsweek and Time giving it tremendous accolades. The young man from Graz, Austria was now a celebrity, even if he may not have been fully aware of it at the time.
GOING GLOBAL
Schwarzenegger found himself at the Golden Globes a mere two weeks later, rubbing elbows with the likes of Henry Fonda, Jimmy Stewart, Carol Burnett, Henry Winkler, Shelley Winters and Raquel Welch.
"When my category came and I won, Sylvester Stallone led the applause," Schwarzenegger write. "It was an incredible feeling to get my first award for acting. Winning the Golden Globe confirmed for me that I wasn't crazy; I was on the right track."
And that track led Schwarzenegger to France when the movie was being promoted at the Cannes Film Festival, a sure sign that things were going to keep moving upward for him.
BEING YOURSELF
Realizing that by promoting "Pumping Iron" as well as he did, Schwarzenegger was also promoting himself. "Every time that I was on the radio or TV, people became a little more familiar with my accent – the Arnold way of talking – and a little more comfortable and at ease with me," he recalled. "The effect was the opposite of what the Hollywood agents had warned. I was making my size, accent and funny name into assets instead of peculiarities that put people off.
"Before long, people were able to recognize me without seeing me, just by name or the sound of my voice."
Ironically, that was and still is Arnold's calling card. And it may not have been if the bad weather 38 years ago had kept people away from an esoteric art exhibition.
Muscular Development magazine (January 2014 issue)