Armed and Dangerous: Strength and Conditioning Workout With 49ers Quarterback Colin Kaepernick
Archive · September 3, 2014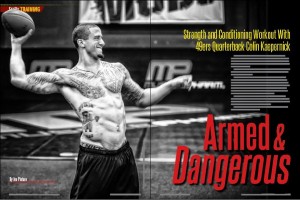 It was the moment that all professional athletes cannot wait for. To get the word that they are now in the starting line-up, finally receiving that golden opportunity to show everyone else what they already knew themselves – that they belong there.
But Colin Kaepernick may have been the last person to find out when he got the nod as the San Francisco 49ers starting quarterback.
"I remember my roommate (Ricardo Lockette) saying to me, 'Hey, have you seen SportsCenter? They just announced that you're starting this week,'" says Kaepernick, 25. "It hadn't been officially released by Coach (Jim Harbaugh), but someone leaked it out. I stood there in front of the television and thought to myself, 'this is my chance; this is what I've been waiting for.'"
With that Week 11 win over the Chicago Bears, the second-year Nevada product solidified his role and kept Alex Smith on the bench for the rest of the season, which, by the way, included a Super Bowl run.
The Niners were now Kaepernick's team, and he was more than ready for the job.
HITTIN' IT HARD
In today's NFL, quarterbacks need to be big and strong, as well as fast to be as effective as possible. Kaepernick fits into all three categories and does so by taking his gym time seriously. Whether it is during the offseason or in between football Sundays, he can be found in the gym five days every week, up to four hours a session between running and weight lifting.
MONDAY – lower body
TUESDAY – upper body
WEDNESDAY – triceps, biceps, core
THURSDAY – lower body
FRIDAY – upper body
"I hit everything twice a week," the MuslePharm sponsored athlete says, adding that he will perform some of the movements from Wednesday's workout (which he calls "gun-showing core") on upper body days.
"I don't do a lot of (traditional) cardio, but more sport-specific things," he added. "A lot of training with bungees, chains, ladders…and a lot of resistance and drops.
"I was actually doing some track workouts for a while, too."
When he is not training with the 49ers strength and conditioning staff at their team facility, Kaepernick is working with Chip Smith in Atlanta. "He did all of my pre-combine, pre-draft workouts with me," he says. "I did everything with him and had good results."
During the season, Kaepernick keeps the same weekly schedule for workouts. "I still train Monday through Friday," he describes. "Saturday is our day off and we play on Sunday."
As a team, the coaches expect every member of the 49ers to hit the weight room at least three days a week, but, as Kaepernick tells it, "most guys do more than that."
As far as training partners go, the players do not break off into position-specific groups to lift. "It all depends on who is coming and going, out watching film or whatever," explains Kaepernick.
Never one to get stale, Kaepernick went right back to getting himself ready for the upcoming season with the last one barely in the books.
"I took just one week off after the Super Bowl and went back to work with Chip," he told us during a break at the MusclePharm training facility in Denver, Colorado.
THE LEARNING CURVE
Although he is still young and has a fast metabolism, Kaepernick knows that eating right goes a log way in making all of that training more effective.
"I used to be a big candy and fast food fanatic all through college and even a little bit during my first year (in the NFL)," he says with a sheepish smile and a hint of a laugh. "But now I've been trying to cut down and eat a little bit cleaner."
By removing the sugary and fattening items from his diet, Kaepernick is in the best shape of his life and looks shredded from head to toe.
Standing at an impressive 6'4", he carries around 220 pounds during the bulk of the offseason and will up his caloric intake as the summer approaches. "I'm a little bit heavier going into training camp – around 225 or 230 pounds," he says. "Normally, my playing weight is between 220 and 225 pounds."
To maintain and improve everything, Kaepernick uses MusclePharm Assault Pre-workout, Amino 1 Recovery/Hydration and Combat Whey Protein.
CARRYING ON THE TRADITION
By coming basically out of nowhere last November, Kaepernick took the league by storm and became a household name, albeit one that was originally difficult to pronounce and spell. Playing at a high level for a high profile team gave him a big stage to perform on and he did not disappoint.
Even when he was used as a role player, lining up as a Wildcat quarterback in the zone-read option, Kaepernick was an obvious weapon and a great change of pace from the drop back passing Smith.
He was always a threat running out of the pocket, but Kaepernick's arm strength and accuracy became even greater parts of his repertoire once he had the chance to showcase them. By having the opportunity to become another all-time great quarterback for a franchise rich in them with predecessors Joe Montana and Steve Young, Kaepernick realizes how vital his growth is.
"It's something where I hope to improve every year," he said humbly. "I'm going to do everything I can to go out and make sure that I win games; perform well for my teammates. If I can get mentioned in the same breath as those other two guys, then I must be doing well."
Flashing back to February, Kaepernick recalls how close he and his teammates came to beating the Baltimore Ravens and pulling out Super Bowl XLVII, what would have been perhaps the greatest comeback in history after facing a 22-point third quarter disadvantage.
"I don't think that there's anything that can make you more hungry than being (seven) yards away," Kaepernick says with a total straight face and piercing stare, describing the 49ers' two-minute drive near the end of the game that stalled with them trailing by five points. "But I hope to play in many more Super Bowls – and win many. The ultimate goal is to get to as many Super Bowls as you can and win as many as you can."
Sounds simple enough, and very well may be – if you just happen to be Colin Kaepernick, that is.
Inked With a Kiss
As the season came to a close and the playoffs began, a new sensation began to take over the country known as 'Kaepernicking,' which was the 2012 version of 'Tebowing,' if you will.
Kids all over were mimicking the bicep kiss touchdown celebration by Colin Kaepernick, but not many knew why the 49ers quarterback was performing the act.
"I read an article that was basically degrading tattoos," the heavily inked one says. "So that was just my way of letting everybody know that I love my tattoos and – like it or not – they're going to be there."
The pieces that grace basically Kaepernick's entire body are works of art (and many contain Biblical verses) and he is rightfully proud of them. So the next time you see him do this (which will be plenty and often), you'll know exactly what the message is that he's giving.
COLIN KAEPERNICK – QB, San Francisco 49ers
AGE- 25
HEIGHT – 6'4"
WEIGHT – 225
COLLEGE – Nevada
DRAFT – Round 2, 36th overall
2011
PASSING
G     ATT   COMP   PCT     YDS   AVG   YDS/G   TD   INT   RATE
3      5        3            60.0     35     7.0      11.7       0      0        81.2
RUSHING
ATT   YDS   AVG   TD
2         -2       -1.0    0
2012
PASSING
G    ATT   COMP   PCT    YDS       AVG   YDS/G   TD   INT   RATE
13  218   136        62.4    1,814  8.3       139.5     10    3       98.3
RUSHING
ATT   YDS   AVG   TD
63      415    6.6     5
Brady's Winning Ways
Another elite quarterback that Colin Kaepernick would benefit from emulating is Tom Brady of the New England Patriots. Super Bowl appearances (and wins) have become old hat with him and Brady stays in top shape with this four-day routine:
MONDAY – Chest, Triceps, Abs (bench press, close-grip bench press, skull crushers, triceps pushdowns, dumbbell kickbacks, crunches)
TUESDAY – Back, Biceps, Abs (power cleans, pull-ups, T-bar rows, dumbbell rows, straight bar curls, seated curls, crunches)
THURSDAY – Shoulders, Chest, Triceps, Abs (military press, dumbbell shrugs, incline bench press, frontal raise, one-arm dumbbell skull crushers, skull crushers, crunches)
FRIDAY – Legs, Abs (squats, deadlifts, leg extensions, leg curls, leg press, calf raises, crunches)
*Cardio performed 40 to 60 minutes, six times per week. 
Manning Up
No great quarterback conversation would be complete without including Peyton Manning, and the veteran signal-caller of the Denver Broncos maintains good form on the field with a similar attitude off it – especially in the gym.
Manning emphasizes on three important areas and splits them up as follows:
ABDOMINAL ROUTINE
*Seated Medicine Ball Throws – 1 set/15 reps
*Partner Med Ball Rotation Throws – 1 set/8 reps per side
*Lateral Partner Med Ball Rotation Throws – 1 set/8 reps per side
*Med Ball Toe Touches – 1 set/15 reps
*Various flexibility and stretching movements
AGILITY TRAINING
*Reactive Tennis Ball Shuffle – 3 sets/15 seconds each
*Pass Drop with Overspeed – 1 set/4 reps
*Pass Drop with Bungee Resistance – 1 set/4 reps
*Mini Hurdle Shuffle – 4 sets/5 reps, changes of direction
*Speed Ladder Straight Run – 6 sets/performed 2X: one foot in each box, two feet in each box, hop scotch landing with one foot in each box, hop scotch landing with two feet outside of each box, 'Ickey Shuffle' with two feet in each box, 'Ickey Shuffle' with one foot out in diagonal shuffle
STRENGTH TRAINING
*Dumbbell Flat Bench Press – 4sets/6 reps each
*Back Hyperextensions – 3 sets/8-to-10 reps each
*Triceps Pushdowns Dropset – 2 sets of 10 reps/decrease 10-to-15 pounds, 10 reps/decrease 10-to-15 pounds, 10 reps
*Hamstring Curls with Single-Leg Negatives – 2 sets/5 reps each leg
 FitnessRX For Men magazine (September 2013 issue)