Bodybuilding/Health & Fitness
MUSCLE SPORT MAGAZINE
Launching MuscleSport Magazine in 2008, Joe was able to combine two of his interests in sports and bodybuilding/fitness. As a print magazine (with an accompanying online version), website, MuscleSport Radio and MuscleSport TV, this is a five-tiered media outlet that reaches a wide demographic. One-on-one interviews with your favorite celebrities and professional athletes about their workout and diet programs.
FITNESS RX FOR MEN/MUSCULAR DEVELOPMENT
In 2009, Joe began freelancing for FitnessRX For Men magazine and was hired in 2013 as the Editor-in-Chief Online and lead writer (cover features) for the print magazine. Joe's duties also include being a Contributing Editor for Muscular Development magazine, writing "Arnold's Corner" every month.
Some of the celebrities and pro athletes that Joe was assigned the cover feature for were Mario Lopez (Extra TV host), James Maslow (DWTS, Big Time Rush), Max Martini (Captain Phillips, Pacific Rim, Saving Private Ryan, Fifty Shades of Grey), Shannon Sharpe (NFL Hall-of-Famer, The NFL Today) and Steve Weatherford (New York Giants).
FLEX/MUSCLE & FITNESS
In 2012, Joe was a staff writer for FLEX magazine, as well as a contributing writer for Muscle & Fitness. The February 2012 issue of FLEX included Joe's cover feature on IFBB pro Lionel Beyeke, "Brick By Brick."
Joe is also a contributing writer for MUSCLE EVOLUTION MAGAZINE.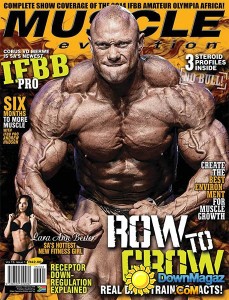 Joe was also a contributing writer for FITNESS AND PHYSIQUE MAGAZINE.
Feature Writer, Muscle & Strength (September 2014 to present)

Contributing Writer, Bro Bible (September 2014 to present)

Contributing Writer, Sports, Nutrition and Supplement Guide (July 2014 to present)