Defense Mechanism: NBA Bad-Boy L.A. Laker Ron Artest Hits From Downtown When It Comes to Training
Archive · September 3, 2014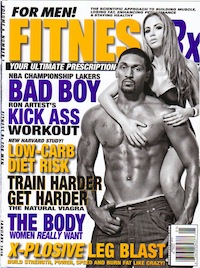 "I want to be ready. I have to be ready." That is what Ron Artest kept telling himself during his 73-game suspension in 2004, following the most infamous brawl in professional basketball history. The bad-boy swingman from the Queensbridge projects stepped over the line, and the National Basketball Association threw down the hammer.
"Sometimes the business end of basketball is so tough and stressful with (NBA commissioner) David Stern," said Artest, who endured the longest suspension not related to drugs or gambling that the league had ever handed down. Not only did he have to sit out the remainder of the regular season that had barely tipped off, but for the playoffs as well. The altercation with fans on the court and in the stands at the Auburn Palace resulted in not only Artest's suspension, but those of eight other players on both the Indiana Pacers and Detroit Pistons as well, ranging from one to 30 games in length.
Schoolyard Ball
To stay in shape, Artest (who signed a five-year, $33 million contract with the Los Angeles Lakers as a free agent this past summer) did what came natural to him— play the game he loves. "I played basketball with my brother and two friends," he recalled. "Two-on-two, all the time." He needed to stay sharp with his body and basketball skills and knew that he would be coming back the following year under intense scrutiny and pressure.
Besides posting up and taking jumpers, Artest also went back to basics— hitting the gym, something that he had been doing for quite some time. "I started working out with weights my senior year in high school (LaSalle Academy), one day a week," he said. "Once I got to St. John's, they had us training every day."
The game at the collegiate level is much more competitive and physical, so Artest really honed his skills once weight training became a regular part of his regimen. "In 1998, I was at my best, athletically," he admitted, speaking of his tenure with the Red Storm.
16th Pick In The 1999 NBA Draft
The following year, Artest entered the NBA Draft and was selected 16th overall in the first round by the Chicago Bulls. Another level higher, the competition on the hardwood increased two-fold and Artest kept up the resistance training. "I got better in the weight room," he said, commenting on the patience and dedication he has in that aspect. "I take my time; there's no rush. I'll spend two hours or more in there."
During the season, the grind of playing 82 games can take its toll, so being conservative off the court is not the worst idea. "I'll lift weights three times a week," the 6'7″, 260-pound Artest said. "I'll also do a lot of core exercises and agility exercises. You want to stay crisp."
During the off-season, Artest turns it up a notch or two. "You can be more intense because you have more time," he said matter-of-factly. "You don't have to cram everything into multiple days."
No Summer Vacation
Artest's off-season routine includes a brief two-week break in July to rest up after banging bodies in the paint for nearly 10 months, then working out one time a day four days a week for a period of three weeks. The next two weeks, he will train twice a day, every other day. Then Artest really turns it up as training camp approaches.
"In the last week of August and the first week of September, I work out four times a day," he said. "In the morning, I'll do some ball handling, shooting and post-ups for about an hour and 15 minutes. Then later on, I'll lift some weights.
"In the afternoon, I'll swim for about a half an hour," continued Artest. "Lastly, I'll play some full court basketball. Some days, I'll substitute the weight training for agility drills like jumping jacks with a lot of flexing, stretching and even yoga."
Full Body Workout
A day in the weight room for Artest is not the same as it is for many other people. The 29-year-old will hit every body part during a session and likes to mix things up with free weights and machines "not to get bored."
For chest, Artest will perform flat bench barbell or dumbbell presses and do three sets of 10 reps, followed by some push-ups. "For triceps, I won't do a lot because you're working them with the chest exercises, so I'll do just two sets of push-downs, 10 reps each."
Moving on to shoulders, Artest will do three sets of 10 reps each, for both front and side lateral raises. He'll switch between dumbbells and machines, as he does for biceps. "I'll do one set of dumbbell curls and one set on a machine," he said. Artest prefers using an extension machine for his back, doing three sets. Then he will do perhaps the most important body part for his profession.
"A lot of people forget about their legs," said Artest, "but that's where you get your power from." He will do some light sets on the leg extension machine before moving over to the leg press and squat rack. "I can do 225 pounds for 10 reps and then 315 pounds for four to six reps," Artest said. "I max out for one rep with 405 pounds. I used to go heavier like that, but now I mostly stick with 225."
The controversial small forward/shooting guard just returned to the weight room in 2009 after missing nearly three years of lifting, due to a nagging shoulder injury. He also prefers to train on his own. "I've worked out with a (personal) trainer at times over the years and with the team trainer, but I'd rather do it alone," he said.
As far as doing cardio, Artest doesn't work on the treadmill or any other machine for that purpose. "Basketball is the best cardio for you," he said, "if it's from playing offense and especially defense. You can play with people or even by yourself (for it to be effective)."
The weight training balances out all of the aerobic exercises that today's player performs. Having a solid foundation to work with has made the wider body frame an athletic one.
Good Things Come In Big Packages
Prior to the 1990s, players in the NBA were tall and thin and the last thing on their minds was bulking up in the gym. Take a look at a guy like Larry Bird. He was one of the best players of all time but was 40 pounds lighter, while two inches taller than Artest. The physiques back then were anything but impressive.
When players such as Karl Malone (6'9″, 265 pounds) and Dennis Rodman (6'8″, 240 pounds) began to fill out during their careers, a new precedent was set that muscles and hoops did mix well. Weight training became a regular part of preparation in the NBA, like suicide sprints and endless free throws.
"You can't be too big to play basketball," Artest said. In today's game, bodies such as that are commonplace and the game is no worse for wear because of it. All of the aforementioned play one of the forward positions, so the comparison is one that has merit to it.
Boxing Out
Because he plays such a physical game and is known for his defensive prowess, Artest is convinced what it takes to keep up that reputation. "I just like to be the strongest guy on the court," he quipped. "I'm not always going to be, but I try."
After 10 years in the NBA, you need to take certain precautions to stay on the court. "The muscles around my knees are healthy," said Artest. "I do agility drills— the same type of things that I'm doing in a game. I keep all the leg muscles strong. My quads, hamstrings and calves."
Getting older is not something that concerns Artest, either. "That's what drives me." Because he is in such great condition, who could blame him for being so confident? Part of that stems from the proper diet that Artest practices. "You want to eat the right way," he said with confidence. "Fast food, fried chicken, soda— that's very bad for you. It'll kill you. Also stay away from cheese and sweets. I try to get my meals from a health food store."
California Dreaming
Where he is currently playing, Artest should have no problem finding places to eat the right way. The bright lights of Los Angeles have welcomed the big city dweller from the other coast and he is quite content to be a role player on the defending NBA champions.
"Defense is going to be even better this season. We're going down in history as one of the all-time greatest teams," says Ron, "This is one of the best teams in the history of basketball; we have to take advantage of that.
"It will be great playing with future Hall of Famers and multiple All-Stars," said Artest. "But I don't look at myself as a superstar. I'm just a regular kid from the ghetto."
His reputation does come with some negative consequences. Last year as a member of the Houston Rockets, Artest was ejected in both Games Two and Three Western Conference Semifinals for hard fouls against the Lakers.
Hopefully Artest can concentrate on playing basketball in Hollywood and enjoy the benefits of having Kobe Bryant, Phil Jackson and rest of the "Showtime" crew on his side. Throughout his career, Artest has been the epitome of the bad-boy image and has not helped his own cause with some of his antics. Besides the brawl in 2004, Artest has been suspended on numerous occasions for flagrant fouls and for his off-the-court actions, which includes an arrest and 20-day jail sentence (which he only served half of) in 2007 for domestic violence.
You Can Go Home Again?
Ever since the New York Knicks passed up on the local product to select seven-foot French center Frederic Weis (who never played a game in the NBA) a decade ago, their fans have speculated on the team's fortunes if they had made the right move and picked Artest.
"Ten years later, they still talk about that draft," he said. "They were really emotional that I had a chance to go there. It was important that they (the Knicks) take me— that's what the city wanted. But I don't think that they understood the connection."
Although he maintains his off-season home in Indiana, Artest still has many family members in New York and comes back to visit quite often. Would he be interested in finishing his career as a Knick, once his current contract runs out?
"I owe it to my city to go, but I can't see the future," he said.
If that ever did occur, a long-ago mistake would be rectified and Artest may finally walk out of the tunnel at Madison Square Garden wearing home white. But until that day, he will continue to play basketball the only way he knows how— hard and tough.
The road for Artest has not been a smooth one, but the 2004 NBA Defensive Player of the Year has certainly paved his way. You can attribute much of his success to the time and effort that he puts in regularly in the weight room.
Off-Season Workout Program
First Two Weeks of July— Time off
Next Three Weeks— Four times a week, one time per day
Next Two Weeks— Every other day, two times per day
Last Week of August/First Week of September— Every other day, four times per day
During the Season
Three times a week, one time per day.
Statistics
YearTeamGamesPPGRPGAPG
1999-00Chicago Bulls           72             12.04.32.8
2000-01Chicago Bulls7611.93.93.0
2001-02Chicago Bulls2715.64.92.9
2001-02Indiana Pacers2810.95.01.8
2002-03Indiana Pacers6915.55.22.9
2003-04Indiana Pacers7318.35.33.7
2004-05Indiana Pacers724.66.43.1
2005-06Indiana Pacers1619.44.92.2
2005-06Sacramento Kings4016.95.24.2
2006-07Sacramento Kings7018.86.53.4
2007-08Sacramento Kings5720.55.83.5
2008-09Houston Rockets6917.1 5.23.3
Career60416.15.13.2                                
FitnessRX For Men Magazine (January 2010 issue)