Kick Ass Total Body Workout With NY Giants Punter Steve Weatherford
Archive · September 2, 2014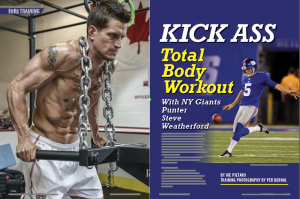 There are scores of people— professional athletes included— who would consider 35 to 40 minutes to be ample time for a full workout. Luckily for the New York Giants, Steve Weatherford is not one of them. You see, the talented punter spends 35 to 40 minutes just getting his body ready for his training session, and he doesn't shortchange himself for either.
"I call it a dynamic warm-up," he says, "and it's probably as important as the workout itself."
FIRST DOWN
Right after arriving at the gym, Weatherford does about two to three minutes with a weighted jump rope to get his blood flowing and create body heat. Then he'll do a dynamic stretching routine for 10 minutes and then 15 minutes of static stretching.
The seven-year NFL veteran then performs his abs and core workout before even entering the weight room. [Editor's Note: Read that part of Weatherford's workout in our September 2013 issue's "Kickin' Ass: New York Giants Punter Steve Weatherford's Hard 'Core' Training."]
ALL FOR SUNDAY
Since the Giants are already into their season, Weatherford modifies his training routine to better fit the grind of the NFL season. His entire weekly regimen is geared towards being fully rested, yet totally stretched out and ready to ensure that his right leg is akin to a cannon.
So he will perform compound movements with heavier weights on Mondays and use lighter weight with added reps on Fridays. "You lose endurance and stamina when you do heavy weight and low reps," the 30-year-old says. "So I'll do a full-body circuit on Friday and less sets and incorporate some explosive movements. I also don't want to shock my muscles that day and it's more for shaking out the soreness from the week, getting good blood flow and build up some endurance.
"I cut down my rest period in between sets from three minutes to a minute and a half on Friday," continued Weatherford, "and I'm very conscious about not exhausting my legs."
Here's what Weatherford does for the week during the NFL season:
MONDAY – Legs
1 – Front Squats: 135 pounds/4 reps, 185 pounds/4 reps, 225 pounds/4 reps, 265 pounds/6 reps, 305 pounds/4 reps
2 – Dumbbell Walking Lunges: 70 pounds/6 reps each leg (12 total), 80 pounds/5 reps (10), 90 pounds/4 reps (8)
3 – Power Cleans: 225 pounds/5 reps, 245 pounds/4 reps, 265 pounds/3 reps
4 – Leg Extensions: 185 pounds/8 reps, 205 pounds/8 reps
5 – Leg Curls: 160 pounds/8 reps, 180 pounds/8 reps
6 – Calf Raises: 405 pounds/5 reps (3 sets, toes pointed out, in and straight)
Cardio: 6 to 8 100-yard striders at 75% intensity
Recovery: Ice Tub (38 to 42 degrees up to the belly button for 10 to 12 minutes), deep tissue massage or acupuncture in the evening
TUESDAY – Off
Weatherford uses this time to be with his family and do charity work, but always makes sure to get in a 60-minute fascial stretching session to help eliminate soreness and improve his range of motion. "Recovery is more important," he said. "You don't want to have a tired or slow leg at practice."
WEDNESDAY – Push (Chest, Shoulders, Triceps)
Warm-Up: same as Monday
Core/Abs: adds an additional exercise and third set for each
1 – Dumbbell Flat Bench Press: 100 pounds/8 reps, 110 pounds/6 reps, 120 pounds/4 reps, 130 pounds/2 reps
2 – Dumbbell Incline Bench Press: 90 pounds/8 reps, 100 pounds/6 reps, 110 pounds/4 reps
3 – Dumbbell Military Press: 70 pounds/8 reps, 80 pounds/6 reps, 90 pounds/4 reps
4 – Weighted Dips: 40-pound dumbbell with chain/16 reps, 60-pound dumbbell/14 reps, 80-pound dumbbell/12 reps
5 – EZ-Bar Skull-crushers: (superset with close-grip presses) 115 pounds/10 reps, 125 pounds/8 reps, 135 pounds/6 reps
6 – Dumbbell Lateral Raises: 30 pounds/10 reps (2 sets)
7 – Front Plate Raises: 45-pound plate/10 reps (2 sets)
8 – Blowout Session w/ Rubber Band: pull-up bar, pressdowns – to exhaustion
Cardio: Half Gassers/4 sets
THURSDAY – Pull (Back, Biceps, Traps, Neck)
Warm-up and Core: same as Wednesday
1 – Weighted Pull-ups: bodyweight/10 reps, 25-pound dumbbell with chain/10 reps, 45-pound dumbbell/8 reps, 65-pound dumbbell/6 reps, 85-pound dumbbell/4 reps
2 – Lat Pulldown with Wide Grip: 225 pounds/8 reps, 245 pounds/6 reps, 265 pounds/4 reps
3 – T-Bar Rows: 70 pounds/10 reps, 90 pounds/8 reps, 115 pounds/6 reps
4 – Bent-over Dumbbell Rows: 100 pounds/8 reps (2 sets)
5 – Bent-over Raises: 25-pound dumbbell/10 reps (3 sets)
6 – Biceps Exercises (2 from the following):
• EZ-Curls – varying weight/10 reps (2 sets)
• One-Arm Preacher Curls – 40-pound dumbbell/10 reps (2 sets)
• Rope Cable Curls – 135 pounds/10 reps (2 sets)
• Rubber Band – till exhaustion, 1 set
7 – 3-Way Neck machine: 2 sets
8 – Shrugs: varying weight/15 reps (3 sets)
9 – Upright Rows: varying weight/10 reps (3 sets)
FRIDAY – Full Body
• Weatherford hits every muscle group in the entire body, incorporating lighter weight, higher reps and fewer sets.
• He will do different exercises than he did earlier in the week and include more explosive movements.
• Side lunges with 115 pounds are performed every Friday.
ALL IN A DAY'S WORK
Upon arriving at the Giants' practice facility every morning at 7:00 a.m., Weatherford jumps in the ice tub, sauna and shower before eating breakfast. The first team meeting of the day takes place at 8:00 a.m. and then he hits the gym by 9:15.
After working out, Weatherford attends a special teams meeting and then they hit the practice field at 11:00 a.m. Two hours later, a cold tub awaits him. Then a quick lunch and a post-practice meeting wraps up the day at around 3:15 p.m. Things change a bit on Fridays, as the team practices earlier and the players hit the weight room afterwards.
But regardless of nagging injuries or not, Weatherford never takes a day off from working out or practicing. "If I have a swollen elbow or something like that, I may back off the weights a little," he explains. "You have to be smart with your body and be ready on Sunday."
Because he is a punter and place kick holder, Weatherford knows more or less just how banged up he will get on game day. "That's what's nice about my job," he says smiling. "The soreness level I'm going to have will be pretty consistent. It's not like a defensive player, who has to administer big hits all day long."
Realizing that the NFL season is quite a long haul, Weatherford breaks down each day during the week and prepares enough for each. "With the four preseason [contests], 16 in the regular season and up to four in the playoffs, you can play up to 24 games in a year," he describes. "So you need to be at peak performance once a week and eliminate as many variables as possible."
To do this, Weatherford treats himself like a baseball pitcher and is on a "pitch count," per say, during practice. "I'll punt 60 times on Wednesday, 45 on Thursday and 30 on Friday," he says. "This helps my recovery and allows me to be more productive."
Then on game day, Weatherford needs to prepare for that single play he trots out on the field for every so often. "It's not like a linebacker," he says about punting. "You only get one rep, so you have to stay active on the sidelines."
During pregame, Weatherford will punt 30 times and then he will constantly stretch out and practice punt into a net so he "feels nice and loose on fourth down." By the time the game is over, Weatherford's leg will have kicked approximately 70 times.
And then it all starts again the following morning with that 40-minute warm-up.
[sidebar] CHARITY WORK
Be sure to visit Steve Weatherford's official website, www.Weatherford5.com, and join him in one of his many charitable roles:
• Weatherford is nationally recognized for his extensive philanthropic work, with his primary outreach focused on children, health and fitness, and family.
• Closest to his heart are the causes in the town of Terre Haute, Indiana, where he was born and raised. Weatherford has established several charities there, including Rush the Punter and Kicks for Kids.
• He has also been just as generous in his current home of New York and New Jersey. In 2013, Weatherford was named Health and Fitness Ambassador of the Boys and Girls Club of New Jersey, serving as a role model, mentor, and fitness and nutrition coach to more than 80,000 kids throughout New Jersey.
• In 2013, Weatherford was also named Head Coach for Wellness in Schools, leading the charge and acting as spokesperson for that organization's recess fitness program for more than 50,000 students throughout the New York metro area.
• In the summer of 2013, he was named the National Vice President of the Muscular Dystrophy Association.
• He also serves as spokesperson for Second Chance Toys, the Breast Cancer Awareness Foundation and The Steve Weatherford Charity for Ghana, in addition to the charitable work he participates in on behalf of the New York Giants.
• In 2013, Weatherford was recognized for his outstanding community service by the NY Giants organization with the coveted Wellington Mara Award.
[side bar] STRONG HOLD
Many people watching a football game take a holder's job for granted, but Steve Weatherford doesn't view it the same way. "I take it very seriously," he says. "You're holding the success of another man's family, the mouths that he has to feed, literally in your hands."
For the last two years, Weatherford worked with Lawrence Tynes. But during the off-season, the Giants made a change and now Josh Brown will be splitting the uprights for them at MetLife Stadium.
"It comes down to repetition," Weatherford explains. "Like shooting free throws [in basketball]. The long snapper, holder and kicker working tirelessly every day."
[sidebar] Steve Weatherford At a Glance
Height: 6'2"
Weight: 211 pounds
Age: 30
College: Illinois
YEAR           TEAM           G           PUNTS           YDS               AVR
2012           Giants           16           58                 2,284           47.5
2011           Giants           16           82                  3,745           45.7
2010           Jets                 16           84                 3,581           42.6
2009           Jets                 16           80                 3,357           42.0
2008           Jaguars             5           21                   915             43.6
2008         Chiefs                 2           12                     512             42.7
2008         Saints                 7           26                   1,094           42.1
2007         Saints               16           63                   2,757           43.8
2006         Saints               16           77                 3,369             43.8
CAREER                             110         503               22,087             43.9
FitnessRX For Men magazine (November 2013 issue)